REQUESTS:
CLOSED
ART TRADES:
CLOSED
COMMISSIONS:
CLOSED
Just thought this may be fun.
Created by
CK-was-HERE
[1] Name ten of your favorite romantic pairings from ten different series or fandoms. This does not include crack ships or crossover pairings.
[2] Forget the part about crack ships or crossover pairings, since I figured most of my friends will do that anyway.
[3] Tag ten other deviants. (Again, foolishly forgot no tagbacks.)
[4] Don't tag CK after you do it again.
Heads-up, some of the ships here may incite uneasiness or even rage, but I have to stress: this is MY list, MY favorites.
NOTE: All are official art unless stated.
1. Bell Cranel X Aiz Wallenstein; Danmachi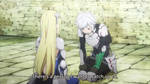 I know many prefer Bell with Hestia, but I do feel the latter's possessive streak can be unhealthy moving forward. Bell's motivation to get stronger stems from his encounter with Aiz, and even learning about her being an airhead, still looks up to her as the ideal role model. Similarly, Aiz also cites Bell's unreal growth as a means to get stronger herself. A healthy relationship is one where both parties benefit and motivate each other, something shown with Bell and Aiz's relationship. This was what inspired my writing of Sandro's crush on Maria.
2. Shikamaru Nara X Temari; Naruto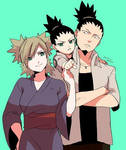 (Fan art)
I have never been big on Naruto, but the relationship between Shikamaru and Temari really intrigues me, and perhaps one with the most organic chemistry between the two. The two were often paired together as adolescents, and their personalities contrast and compliment each other very well. Their interactions are also portrayed more "naturally" than some of the other canon couples, and honestly, seeing Temari as part of the Nara family was incentive to watch some Boruto. I'm glad this pairing is canon, and Temari's savage moments can be pretty funny, all things considered.
3. Izuku "Deku" Midoriya X Ochako Uraraka; My Hero Academia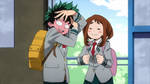 These two were literally made for each other. For one, Ochako serves as Midoriya's primary supporter and a positive influence, compared to Bakugou's brash and condescending attitude. She is never one to keep him down, and it seems like when she's around, things start to get better for Midoriya. One thing that defines Ochako is that she wants to focus on being a hero first, avoiding a trap that many shonen love interests tend to fall in and become one-dimensional characters. On Midoriya's part, Ochako is the first true friend he made at UA (not counting Bakugou), and it's clear that Ochako inspires him as much as he inspires her. Once again, a healthy relationship is one that both parties can compliment and support each other, which is evident in this one.
4. Jaune Arc X Pyrrha Nikos; RWBY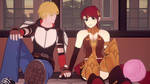 (MASSIVE SPOILERS FOR RWBY AHEAD)
This ship is officially sunk due to Pyrrha's death after Volume 3, but you can tell that Pyrrha's influence still lingers with the former Team JNPR, and especially with Jaune Arc. The two were opposites that got attracted to each other, which is very evident in Volume 1. The quality of RWBY's writing seems to have gotten after Pyrrha was taken out of the picture, but the way it's portrayed with Nora, Ren and especially Jaune moving on is realistic. Maybe this is one ship that has to be sunk to push a character arc ahead, as painful as it sounds.
5. Shirou Emiya X Saber (Artoria Pendragon); Fate series (Bite me, Rin and Sakura shippers)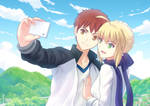 (Fan art)
Shirou gets paired up a lot with the female characters, but honestly, I prefer his relationship with Saber (Artoria) the most. Maybe it's cause I'm more influenced by Carnival Phantasm, but Shirou is someone who can bring out a different side of Artoria. Initially she finds Shirou perplexing, due to the way he behaves (and cause he lacks the potential to supply her with mana, hence why she eats a lot), but when you look at it, the two have quite a few similarities. While I admit I enjoy Shirou's dynamics with Rin, and Sakura may actually have the healthiest relationship of the three (barring her own inner corruption), I still very much prefer Saber X Shirou.
6. Akihisa Yoshii X Minami Shimada; Baka and Test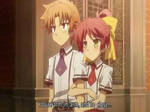 One of my main gripes with Kenji Inoue's writing is how most of the female cast is portrayed (Himeji dense, Minami violent, Miharu a massive man-hater, Yuko a stuck-up b**ch, and don't even get me started with Shouko), but out of the potential ships, Akihisa and Minami stands out (even if Himeji ends up being the implied canon girl). It was actually Akihisa that tried to establish a connection with Minami (though being the idiot he is, it did take a while), and outside of pretending to be a couple, their interactions are natural, outside of Minami constantly beating him up with wrestling moves for provoking her. Akihisa puts it best: although he does not treat Minami like a princess, she is someone he can speak to freely, just like his male friends, and that is part of her charm. He may be an idiot, but Akihisa is not that dense with the ladies, and it's a shame that the implied ending was him choosing Himeji.
7. Renji Abarai X Rukia Kuchiki; Bleach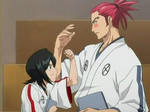 I actually prefer this pairing more that Ichigo X Orihime and Ichigo X Rukia, for one simple reason: devotion. Orihime's crush on Ichigo was always portrayed as one-sided in the manga and anime, and I have not exactly seen a moment where Ichigo expressed his feelings for Orihime to show he does care for her romantically. Renji, though, his moment was after his loss to Ichigo during the Soul Society Arc. The two grew up together, and even after their paths converged, Renji's motivations were always for Rukia, which is why he stood up to Ichigo and later Byakuya. I only wish there were more moments to show Rukia's own devotion to Renji.
8. Ryuuji Takasu X Taiga Aisaka; Toradora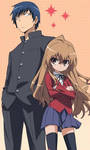 This relationship proves that despite a rough start, it can work out in the end. Both actually started off with different love interests, and their partnership was initially one of convenience, due to each having leverage on the other's love interest. However, over time, they get to see each other's true selves, mainly cause they spend so much time together, and their traits balance each other out. The anime did rushed the resolution a little too quickly, but all in all, I am glad they did end up together by the end of the series. Their relationship also inspired how I envisioned Tania and Mansur in my writing, a feisty lightning priestess and an assassin trainee with a soft side.
9. Gintoki Sakata X Tsukuyo; Gintama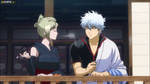 It's rare that two people with similar traits together will produce a healthy relationship, but it seems this one is the exception. Whether it was intentional is up to debate, but both Gintoki and Tsukuyo have very similar character designs, for one. Both served under masters with ulterior motives, which they later killed to protect someone else. Both also had a fatalistic streak stemming from their upbringing and experiences. I can keep going on with their parallels, but words alone cannot do justice to describe how their relationship works. Gintoki appears more comfortable around her than Otae and especially Sacchan, and Tsukuyo's story arcs often have Gintoki play an important part in them.
10. Kamijou Touma X Misaka Mikoto; To Aru series (Index and Railgun)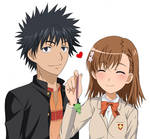 (MASSIVE SPOILERS FOR INDEX)
"Opposites attract", as the old saying goes, and this certainly applies to these two. Touma is a Level 0 with a power to nullify other powers, while Misaka is a Level 5 with power over electricity. Yet somehow, their fates are irrevocably intertwined in their respective story arcs. It was Touma that tried to stop Misaka from needlessly sacrificing herself after learning the truth of the Sisters project, and Misaka was the first one to learn of Touma's memory loss. So far, only Misaka's crush on Touma is shown, although it is implied that Touma does like her, but finds it hard to reciprocate her feelings. Unlike some of the women in his life, Misaka is one of the few that does not call him by his name, though that is attributed to Misaka's tsun-tsun attitude. Either way, I like this pairing more than Index or even Misaki, who is a favorite character of mine.
HONORABLE MENTION
Hayate Ayasaki X Hinagiku Katsura; Hayate the Combat Butler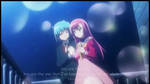 Tagbacks
Nah, do this at your own leisure.
TheKenzai1987