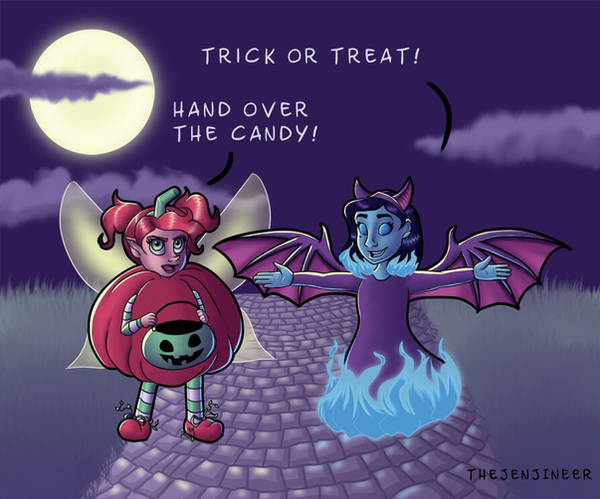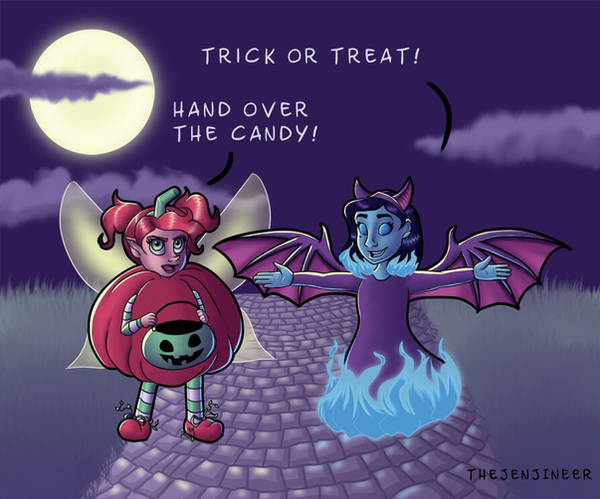 Watch
I colored it! Saffron and Peri as little kids trick or treating.
The Saffron and Peri Halloween special can be listened to here:
saffronandperi.libsyn.com/hall…
Hope you like it!

Aw, I never commented on this one here??
(Feh, forgetful in my old age.)

Saffron and Peri made for absolutely adorable kids! XDD
I love their expressions here, both so perfectly in character!

Gorgeous colors, the glow of the moon, the look of the night...!
Reply

Yeah, we really should consider childhood stories. Sort of like Saffron and Peri meets Muppet Babies.

Reply

Shame on me for not commenting on this sooner, but they are adorable. I do agree it is kind of weird to have fantasy characters dressed up as fantasy characters, but you make it work.

You managed to capture Saffron's attitude so well, and I also like the little touch of the flames at the end of Peri's hair.
You know, it just occurred to me that Saffron is the far more fiery in personality, while Peri is more cool-headed, yet ironically Peri is the one who's literally fiery. I don't know if that was on purpose or not, but I appreciate the dichotomy.
Reply

Thanks!
I did do that on purpose, every character in Saffron and Peri goes against their natural cliches. With Saffron, I was thinking about the dainty delicate fairy you see in most art and I wanted a fairy who's the exact opposite.
Reply

Ah, well good job then!
Saffron is very much not your typical fairy, and now that you mention it, most of the other characters go against the grain too. You have succeeded exceedingly well!
Reply