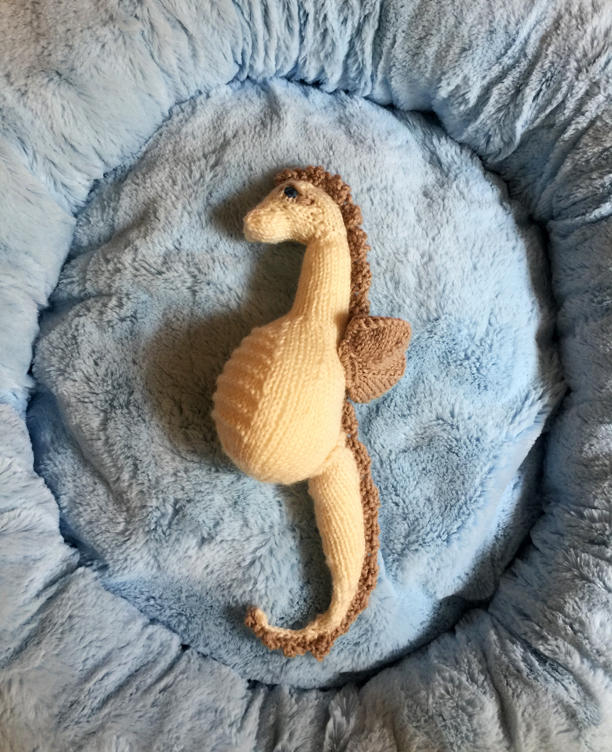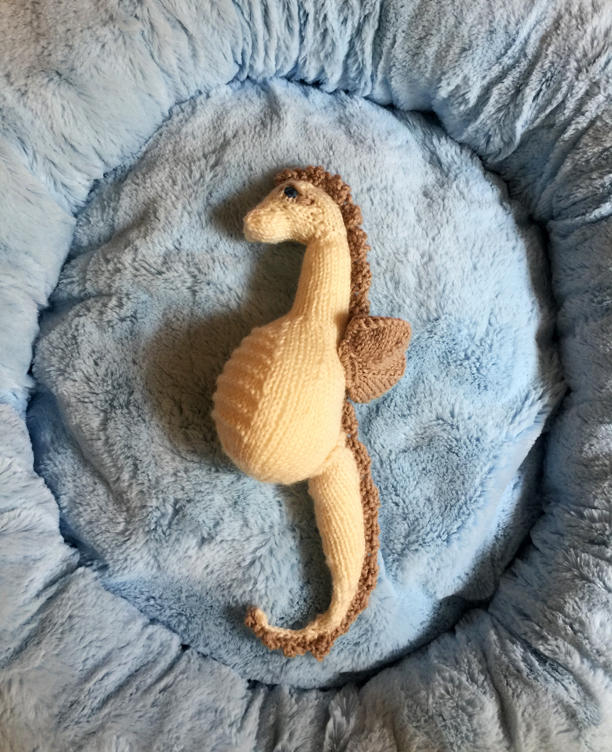 Watch
A toy I knitted. It was supposed to be a dragon-dragon, but then he looked seahorse-ish, so I adjusted the pattern to make a sea dragon instead.

Its name is Rosebud just because that's the first thing that came to mind.

I think Rosebud is a very lovely sea-dragon.

I'm still super impressed that this was YOUR VERY FIRST ATTEMPT AT A DRAGON.
It looks so good! I don't care if it changed partway through from a land dragon to a sea dragon--it's still amazing!
Reply

It's doing those teeny tiny little pieces like the feet with four tall pointy needles. They kept getting in the way of each other! It was so frustrating.

(I gotta learn to crochet, but I'm not making much progress)
Reply

I can imagine!

My mom just discovered some amigurumi patterns and became intrigued because she used to crochet doilies.
(I tried to tell her about all the patterns out there, but sometimes she needs to discover things for herself.)
I think with a bit of practice you'll pick up crocheting easily enough--remember that you had a difficult time with knitting in the beginning.
Speaking of knitting though...
Today and yesterday was scarf weather and I absolutely loved wearing my Saroyan. When I first walked out the door I was like "brr, nope, today is gonna be a nasty day", then I retreated back into the house to grab my scarf and I felt invincible! I said: "ha! Cold weather? I can stand out here with my chickens ALL DAY."
Reply

I love this thing. I think I may have mentioned it on the tumblr, but you've come so far to be able to do something like this, even if it did change midway through.

How long did it take you to do this?
Reply

It's really hard to say. I don't work on it every day, and I took this picture a lot later than I finished it so I don't know when the end date was. I should probably keep a journal or something.
Reply

Yep, I'm the same way. I only recently started trying to pay any attention to how long it takes me to do things, because I'm trying to be more professional and be able to tell people how long things are going to take and charge accordingly. I do have to write it down, though, because I generally just lose track of time when I'm working on something. Many's the time I've sat down in the morning to start on something only to look up a bit later and realize it's dinnertime. I've flat skipped many a lunch...
Reply

Maybe you had
Citizen Kane
on the brain.

What an adorable seahorse! Cute story behind it, too; another great example of your skill at problem solving.
Reply

I love the way you switched off between garter and Stockinette(?) on the belly to create the texture.
Going to make one in pink and yellow next time...?
Reply