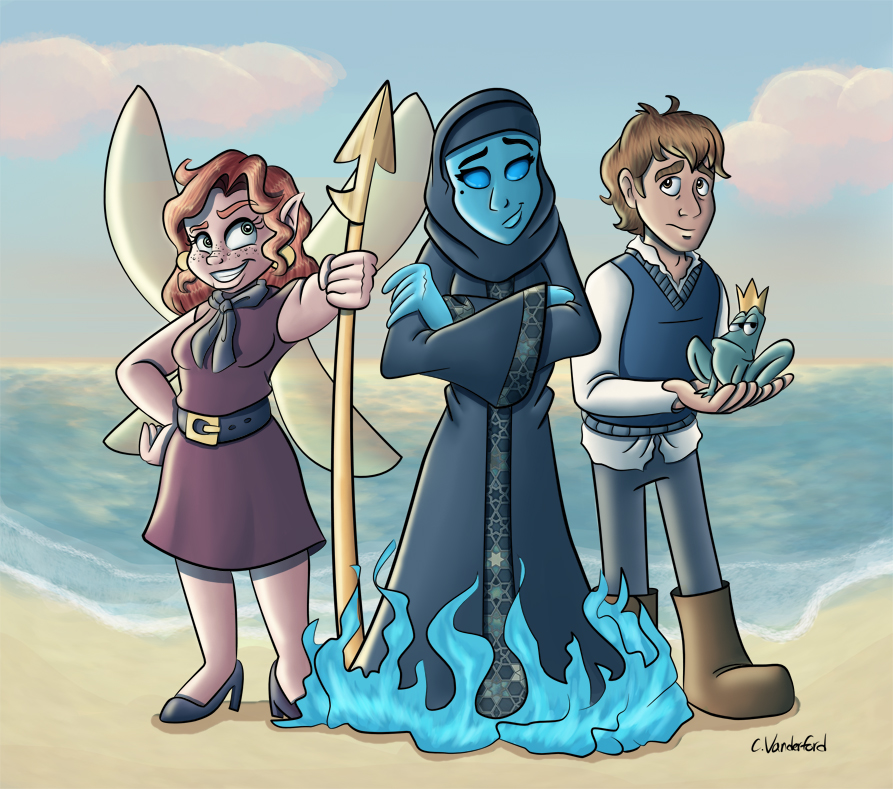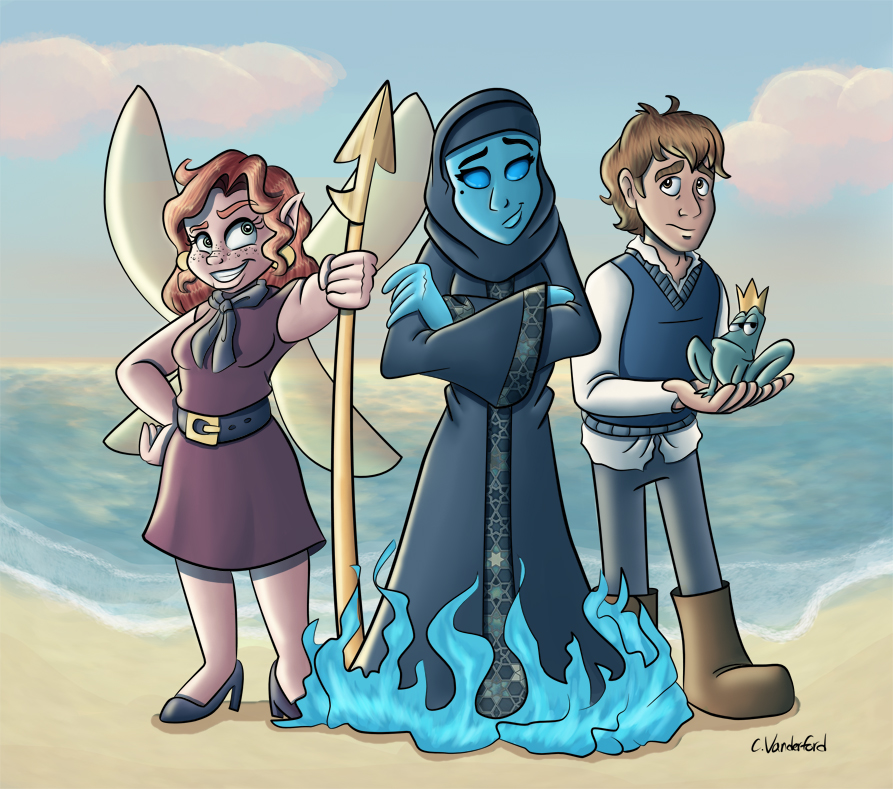 Watch
A scene from Saffron and Peri
The sketch was done by

who also plays Tristan (far right) and Ivan (the frog)
The inking was done by

who also plays Saffron (far left)
And colors by me, who also plays Peri (middle)
A new episode is out today!
You can listen to it here:
saffronandperi.libsyn.com/ep-4…
Or if you prefer youtube:
www.youtube.com/watch?v=r_d0Mu…
I hope you like it!

This was a super awesome collaboration!
Chris's sketches are a lot of fun to ink (he's got a fun fluidity to his lines), and your colors look amazing in ANY style. I love the atmosphere the lighting gave the characters here, the background really makes them pop and gives a sense of depth. (Way too many of my characters end up floating in dead space.) Your shading and placement of highlights makes them seem so ALIVE!! It almost makes it look like 3D art, except it still retains the charm of 2D.
Reply

One of the funnest collaborations I've ever done. And definitely the largest with three entire people involved (not 2 and a half, three ENTIRE people!). Chris's fluidity and your crispness made it very easy and fun to color.
Reply

Heeey, you're right, that's the largest collaboration I'VE been a part of, too!
We all worked really well together. I'm glad we got the opportunity to do so.

Reply

I love it! The three of us make a great combination... We should do stuff like this more often.
Also, I don't know how you did it, but the water effect in the background is very impressive. I also like the pattern you used for the trim on Peri's clothes, it just seems to fit her motif well.

Two other things-
1) I noticed my signature at the bottom; you and Sara should sign it too, since it was a group effort.
2) in the description, something must've gone wrong because it doesn't read that you did the coloring, it just says: "And colors by, who also plays Peri (middle)." You might want to change that and give yourself credit... maybe...
Reply

It was pretty fun to do! I'm all for future collaborations.
I'll fix the description right away, but I think it's traditional for whoever did the original pencil art to sign the work. That's how I've seen it work with comics most of the time.
Reply

After that sketch contest awhile back, I've been toying around with the idea of reviving my old Gidget comic and letting Sara do the linework and you do the colors... And even filling you two in on the story I already have and letting you have some input on that as well... Sort of make the whole thing a collaborative project. With the time I'm putting into "OUTBACK" these days, I don't have time to do an entire side project on my own on top of that, but with the help of talents like you and Sara it just might work. I'll need to get a reliable colorist for "OUTBACK" first though, if I'm going to free up the time to sketch "Gidget." Just thoughts... We'll have to see how things work out, and if you and Sarah are on board with it. I of course don't want to take away from your time for your own projects like "Saffron & Peri" and whatever Sara has planned... Oh, if only we all had more time... I'm starting to get to the point where I realize I have far more ideas than I have life to do them in...
Reply

I do enjoy coloring a lot, but I'm not sure if I have the time. Is it a matter of a couple of pages or a more long term thing?
Reply

Well, at this point it's just an idea I'm toying around with anyway...
It would be a more long-term thing, but since it's in a book format, we probably wouldn't release anything until at least the first chapter was already done. It wouldn't be a weekly thing like OUTBACK is. So, it could take as long as it needed to, really.

All of that's kind of a moot point until I can find someone else to help me with colors on OUTBACK, though. The weekly strip takes a lot of time, and I'd have to find a way to make my schedule work better first. So, basically, we're talking sometime later on down the road... I was just kind of spit-balling ideas at this point.
Reply