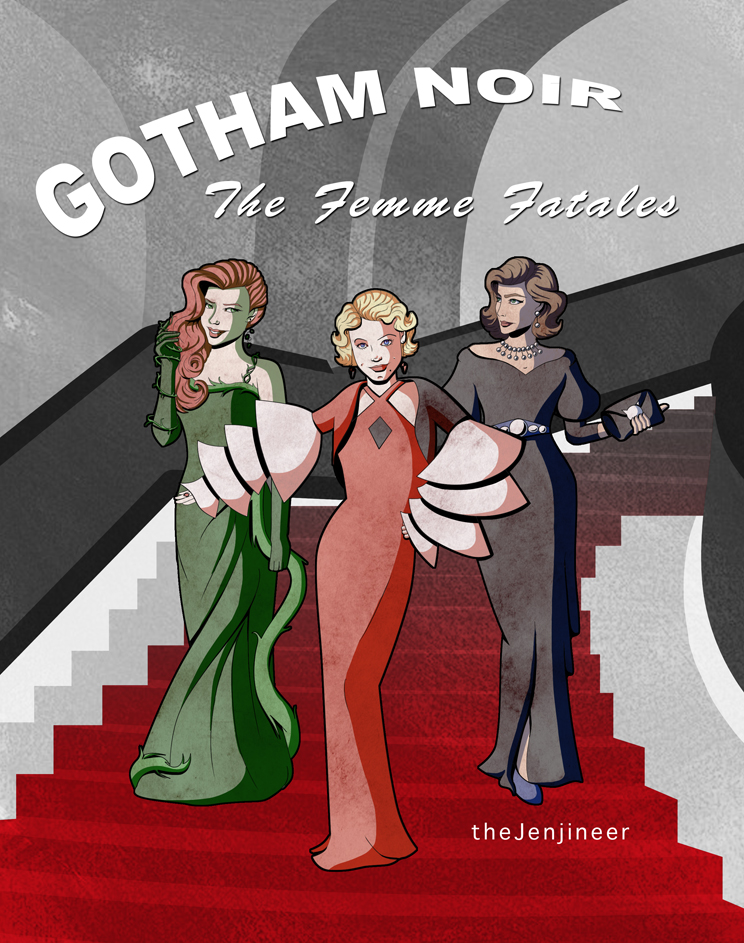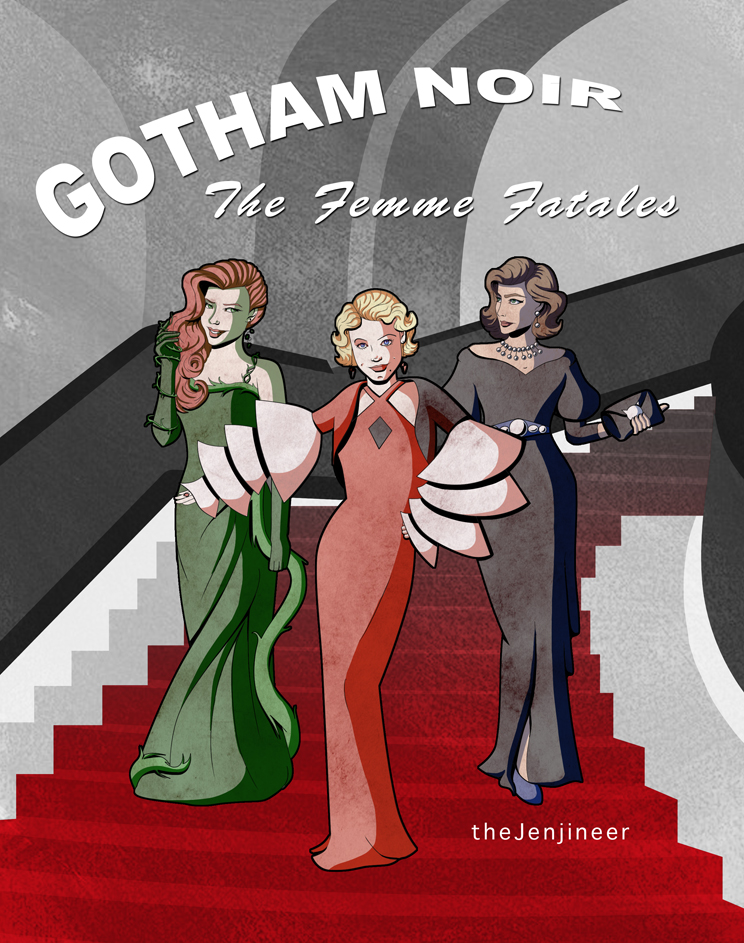 Watch
I'm on a film noir kick lately, so I decided to draw the main Gotham villainesses as golden age actresses.
Here's my ideal casting:
Rita Hayworth
for
Poison Ivy
: She has the lovely red hair, and she played the temptresses wonderfully in Gilda.
Jean Harlow
as
Harley Quinn
: See almost anything she's in for proof that she's the perfect Harley. She can play a sweet baby-talking moll or a lady that can throw you off the roof faster than she can bat her eyes. See Dinner at Eight to see a great example of her full range.
Lauren Bacall
for
Selina Kyle
: Her smokey voice is what I've always imagined for Catwoman, and her overall look and style is exactly what I'd think Selina would go for in the 40's. Also, she kind of has cat eyes.
And it's a bonus that ALL of them had experience in film noir.
It's really too bad I can't get this movie done, what with all my leading ladies being dead and everything.

I'll post a close up of the faces soon.
Update: here it is

Wow, they all look so glamorous

I especially like Poison Ivy's hair.
Reply

Thank you!
Rita Hayworth, the actress I used for inspiration, was known for her amazing red hair (fun fact: it was dyed, she was born brunette). She came from a time when a stylish woman took great pains to keep her hair perfect and tidy at all times, but she wasn't afraid to mess her hair up beautifully. That girl took hair flipping to a new level, like a level equal to wizardry. Observe:
www.youtube.com/watch?v=e-LO9A…
Reply

Love,
love
, LOVE it!!!

I love your casting choices for the characters--they match up so
perfectly!
I also love what you did for Harley Quinn's dress here; I was wondering how you'd get the mismatched black and red, this suits the 40s noir theme wonderfully.
You did a marvelous job of capturing the right hair styles for the time as well, love the little waves and curls.
And that title card--PERFECT. The way the "Gotham Noir" curves, and the fonts used...simply perfect.

I also want to say that I like your use of texture to add interest to both the background and the ladies' dresses.
*sigh*
I would totally love to see all three actresses performing portrayals of those characters.

Reply

Thank you!
I actually didn't have to do much thinking for Harley's dress, I just drew one of Jean's dresses, she already had a pretty Harleyesque dress:
www.bluevelvetvintage.com/vint…
I told you she was made for the part.

Actually, I drew mostly real dresses the actresses wore. Here's Ivy's
i.huffpost.com/gen/2176476/thu…
and Selina's is a mash up of these two:
assets-s3.usmagazine.com/uploa…
and
www.doctormacro.com/Images/Bac…
Reply

Oh my gosh, she WAS wearing a very Haleyesque dress!

Actually, ALL those dresses were suitable choices for the characters in this setting...
Don't you love how actresses of the time, in posing, would usually always crook out one leg?
You mimicked that perfectly in both Harley's and Selina's poses.

The little crook in their dresses at hip and knee translate nicely into their poses without ever needing to SEE the full leg.
I've recently had some trouble getting full body poses to come out right, and I think what I need to do is vary the weight distribution a little.
When drawing women (and men), I suspect I should try more to give them that slight uneven tilt, so both legs aren't on the same plane...
SOMETHING FOR ME TO KEEP IN MIND

Reply

I think it's the show the dress to full advantage? I don't know, maybe it's just a popular pose like the old school version of the duck lips you see everywhere now.

I know what you mean. When not copying a specific person, my drawings always look more like an mannequin than a person. *sigh*
Reply

This is absolutely wonderful! So classic, what with their gorgeous hairdos and dresses. A film noir version of Batman set in the 40's is something I'd totally be down with watching.
Especially
if it really focussed on the villains and the detective-style batman that the latest movies seem to have forgotten about.
I love how you've contrasted the sharp angles of the stairs with all the soft flowing lines on the characters. Love the gradient on the stairs as well, and the subtle texture. And of course, the ladies look gorgeous. I can totally see them as those characters, from Harley's baby-doll 'I'll probably kill you later' stare, to the way Ivy is toying with her hair.

Reply

Thanks! I'd love to see that movie too. Where's a time machine when you need one?
I tried really hard to copy your way of painting lately but failed completely. So I cheated with textures instead.

Reply

To be fair, my way of painting at the moment basically consists of 'choose a couple of watercolour brushes and mess about until something looks good.'

I'd make a tutorial or something over the holidays, but there's not much point when Clip Studio is still kinda obscure as an art program. I don't know how well the techniques translate into Photoshop or Sai.

If it helps, I don't usually lay down flat colours on the watercolour-like pieces. Instead, I just grab a brush and 'colour' messily, like you would with regular paint. Sometimes I don't even bother with layers, since the brushes are transparent anyway and won't cover the lineart. It's very loose, pretty much the opposite of how I normally work.
Reply

Oh, I see my mistake. I started with layers of flat colors like you said. I think what you're describing is closer to the way I do my speedpainting, but with special brushes. I haven't found a good brush for that in photoshop but I haven't looked very hard. I can probably find a good photoshop-centric painting tutorial floating around if I google though, so thanks for the tip!

Reply

Yep, exactly, it's speedpainting! The picture of Min doesn't even have the colours fill in the lines properly.

I'm much neater with my 'normal' style, but even with that I've started using fewer layers than I used to. I find it makes things look more organic, and it's easier to eyedropper colours all over the place that way.
You could always trawl through DA for traditional media brushes for Photoshop. There's billions out there to download. Photoshop doesn't come with many great brushes natively, but artists have made and shared more brushes for Photoshop than any other program and there's heaps of free ones available.
Reply