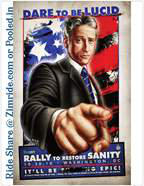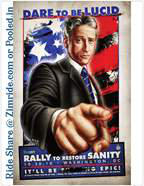 Thanks to
shokxone-studios
for creating the original
Rally to Restore Sanity
artwork.
This derivative is merely to show the results of an upload into Vistaprint (dot com) and a minor modification with the addition of the ride share information. I then printed these as (free) fliers and have been distributing them all over town.
Here is one in the wild.
This upload is primarily to thank the original artist. Secondarily, I hope it provides some of you with ideas on how you can use the original piece of art!