Help support Ferisae's cause, which is for all Latin American fans to be able to experience the Symphony of the Goddesses. (The minds behind it are ready to go, they just need to show Nintendo and the production company that there is support!) She's done an incredible interview & interview video with the Symphony's producer and conductor, which you can find in English here:
melorasworld.com/zelda/thefore…
If you work for a Zelda site, or have a Zelda-centric blog, please post about it and please urge more fans to join the facebook page and to sign the petition:
Facebook Page:
www.facebook.com/SOTGLatinamer…
Change.org Petition:
www.change.org/petitions/symph…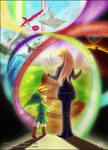 Even if you haven't realized it yet, you already know and love her art and her enthusiasm for Zelda: on top of that is this interview, which means she's already gifted us so much. Spreading word is such a simple thing to do in return. Fans need to do what we can for each other. If you choose to help~ then thank you from the bottom of my heart! You make me proud to be in this community!
I mean, look at how inspiring this is! From the interview:
"We keep saying to everybody to write to Nintendo. Nintendo does listen to its fans. They do, and they do care, and showing that they care for the fans is us doing what we are doing. It's not for financial reasons or anything like that, it's a gift. Just tell everybody, write to Nintendo."
-Symphony of the Goddesses Conductor Eimear Noone