I wanted to promote this fanwork contest Linksliltri4ce

is having, the prizes are pretty sweet! Please join in: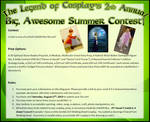 Find all the info here:
linksliltri4ce.weebly.com/1/po…
or here on DA:
linksliltri4ce.deviantart.com/…
Contest:
Create a one-of-a-kind Linksliltri4ce fan-art!
Prizes:
☆ A 3D Spiritual Stone Replica Prop Set.
☆ A Medium, Multicolor Great Fairy Prop
☆ A Kubrick Wind Waker Gashapon Figure Set
☆ A Zelda Cartoon DVD Set ("Havoc in Hyrule" and "Ganon's Evil Tower")
☆ a $10 LoC Gift Certificate
☆ a $25 LoC Gift Certificate
☆ and a $50 LoC Gift Certificate!
☆ Each winner will also receive a Graffix Twilight Princess Sticker!
☆ (Participation Prizes and Early Entry ☆ Prizes MAY be awarded at Linksliltri4ce's discretion!)
Rules:
1. You must post your submissions on her blog post here:
linksliltri4ce.weebly.com/1/po…
Please provide a link to your work if it is featured elsewhere- example: deviantart (All other submissions will not count.)
2. You have until
Saturday, August 17th, 2013
to submit your fan-art!
3. You may enter as many times as you would like!
4. Any medium is acceptable: painting, video, song, sculpture, craft, photo manipulation, etc.
5. All entries have to be related to any cosplay, prop, or accessory made by Linksliltri4ce. (If I haven't made it, it doesn't count! Example: I have a Little Zombie Girl Walking Dead Cosplay. You submit a drawing of Daryl from Walking Dead. Your entry is invalid unless you include MY cosplay in the drawing as well.)