In Ancient times perilous times come upon the Earth when a group of Angels disguised as human men wreak havoc.
The Grigori Team:





Had a Divine Vision and The Grigori project was born.
THE GRIGORI ANIME TRAILER IS HERE DONE BY
BY
iokoshi.deviantart.com/
GRIGORI ANIME TEASER TRAILER:
youtu.be/paikTlM12zA
To keep up with the progress of the Grigori project please watch and like the Facebook page. Thanks for the support.
Twitter:
twitter.com/Grigori_Anime
just started today!
Twitter:
twitter.com/DVPFilms
What is the Grigori?

What is The Grigori?What is The Grigori?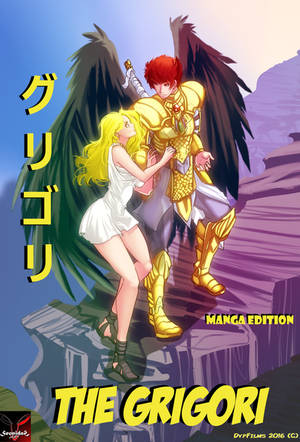 That Grigori stands for "Watchers". Watchers are a specific type of Angels. The apocryphal Books of Enoch (1st and 2nd centuries BC) refer to both good and bad Watchers, with a primary focus on the rebellious ones. (Also Genesis 6:1-4 and Book of Jasher)
In the Book of Enoch, these 200 Watchers are angels dispatched to Earth to watch over the humans. They soon begin to lust for human women and, at the prodding of their leader Samyaza (Semjaza)Semjaza Leader of the Annunaki, defect en masse to illicitly instruct humanity and procreate among them. The offspring of these unions are the Nephilim, savage giants Gilgamesh Nephilim~ The Grigori. who pillage the earth and endanger humanity. Samyaza (Semjaza) and his associates further taught their human charges arts and technologies such as weaponry,