So I found someone selling a bear skull on here, so I messaged the seller about it and we made arrangements. There were so many red flags that I ignored, now I've lost $200 because if this person.
Here's their DA page: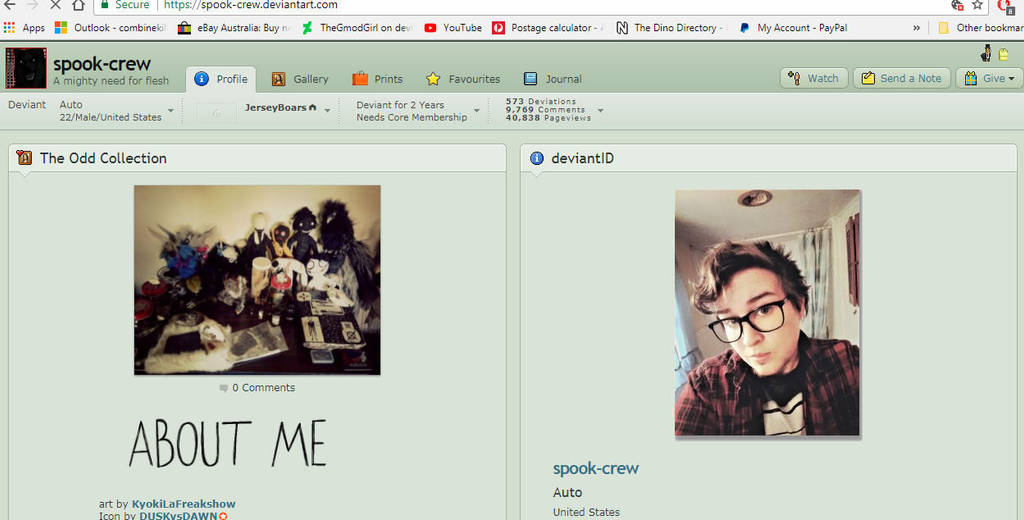 Here's their second DA page: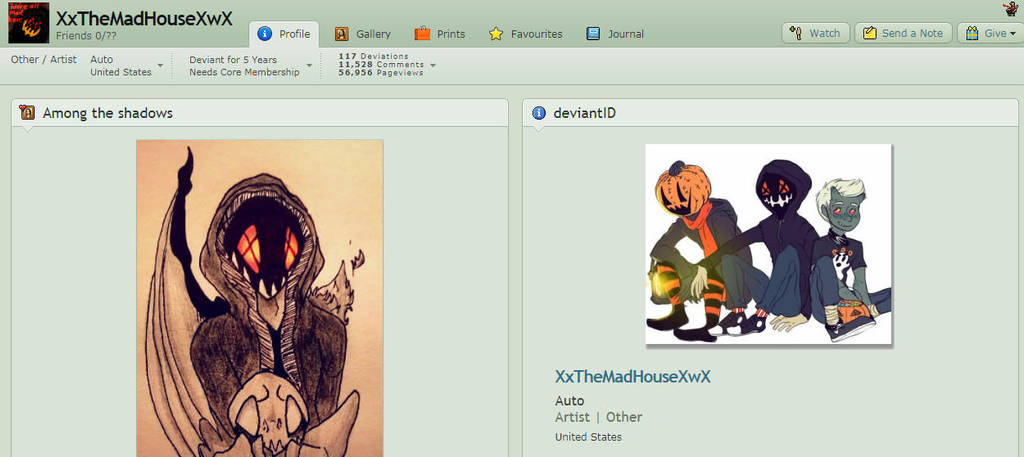 Here's their Youtube: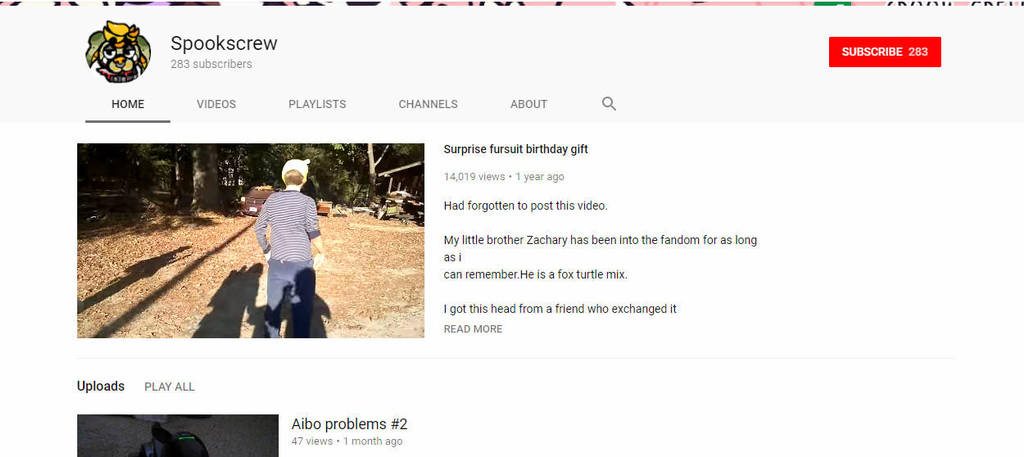 I was going to add a picture of the listing but she/he already removed it, but anyway, she/he was selling a bear skull along with a bunch of other taxidermy things. I messaged her/him about the bear skull.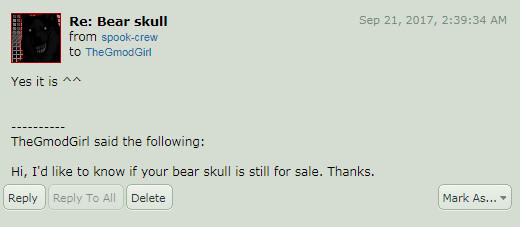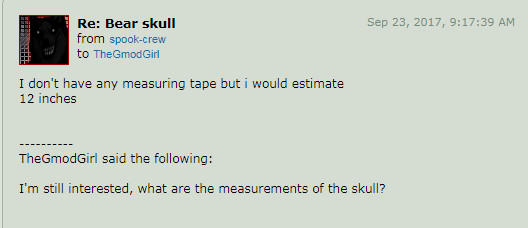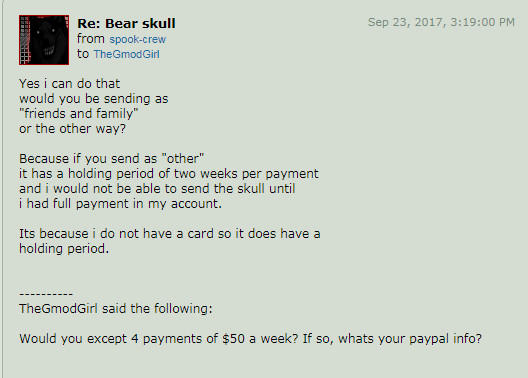 That's the first red flag, whenever a seller asks you to use the "Friends and Family" option on Paypal you know they are shady. I ignored that and sent the money through goods and services anyway.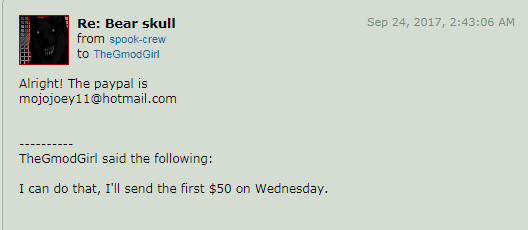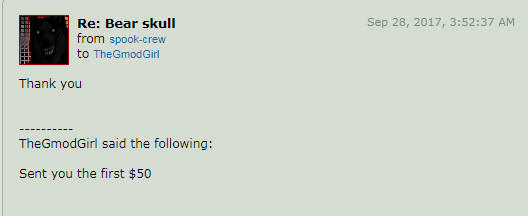 There's the first payment, here's the paypal transaction:

I got too lazy to message her/him whenever I sent the next payments, but here's the other transactions:





And that was the last payment. "Spook-Crew" said that they would send the skull after the last payment, there's the last one, but where's the skull?
She/he kept ignoring my messages.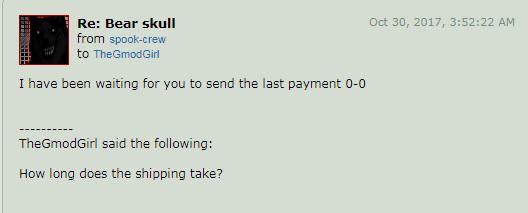 Hold up. What?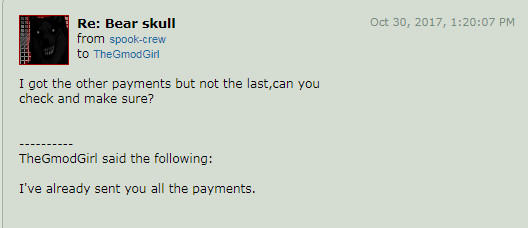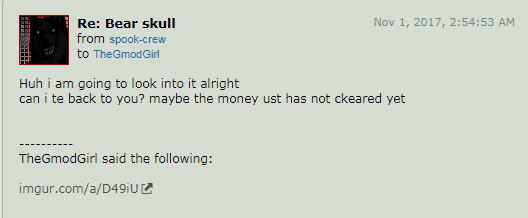 The picture I sent was of the Paypal transaction for the last payment.

Then I lost communication for a while.

So I put in a transaction dispute with Paypal, that eventually got their attention.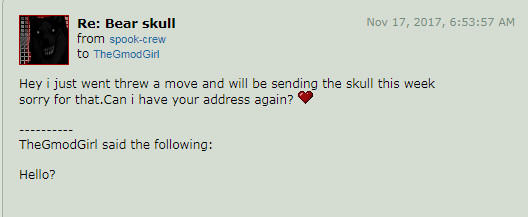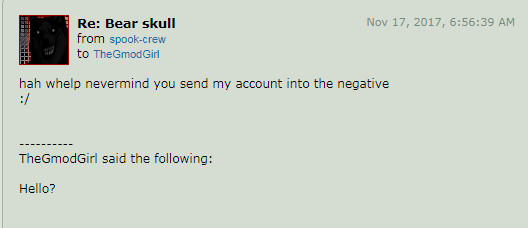 As if that's my problem. I should've taken this time to dispute all the transactions, then I wouldn't have been scammed out of $200.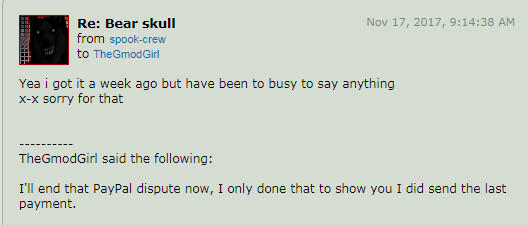 Bullshit sob story.

For some reason I trusted that they would send it, so I ended one dispute for $50.
Then I lost communication again for a while.


Then I got one last message from him/her.
I got nothing since then, no messages, no updates, no skull.
I still tried to message them but they never replied.
Don't know why I bothered asking them for a refund, I knew the message would be ignored.
I tried to go through Paypal to get the 3 transactions refunded to me but it had been too long since the transactions were made so Paypal couldn't do anything.
If you scam people and do stuff like this, you are a real piece of shit.
Anyone that does this deserves to rot.