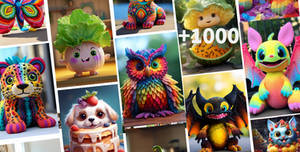 Ai Plush Art Gallery
This collection are over 1000 illustration to help you get inspired in filed of game/animation/illustration project.All images are made of AI. Support my work by contributing to my tip jar every month.
---

Description
Give away on my facebook page -->
[link]
To enter:
Share this original image from my facebook page onto yours and that's one entry.
Like my page and that's another entry. (If you already liked the page and want your second entry just leave me a comment there and the entry is yours.)
Please be sure your settings allow me to see that you've shared/liked.
Be sure that if you win you are allowed to give me your mailing address (under 18, please get your parents permission.) If you can't give me your address you forfeit the prize.
Giveaway Starts today 3/15/2013 & ends Monday 4/15/2013 at midnight PST. If there are less then five individual contestants I may extend it a couple weeks.
Prize:
The 7 1.25" pinback buttons pictures here.
They are all fan art done by me, Thedustyphoenix, and based off the characters from the anime/manga Sailor Moon by Naoko Takeuchi.
How the winner will be chosen:
Luck!
I'll make a list of the names of entrants. Those with two entries will have their names on the list twice, spaced out. Names will be divided into groups of no more then six and then I'll start rolling dice. Take a winner from each list and roll the dice again till it's down to one name.
I'll announce and contact the winner within a couple days of contest closing. Winner has one week to respond with their mailing details or a new winner will be chosen.
Feel free to contact me with any questions.
Buttons are also available for purchase through my Etsy shop. Custom combo orders are welcome!
[link]
Image size
385x569px 221.77 KB

Well that's not good, I don't have a facebook.

looooong sigh.
Anyway, these pins are really cute. I love the artemis and luna one also.