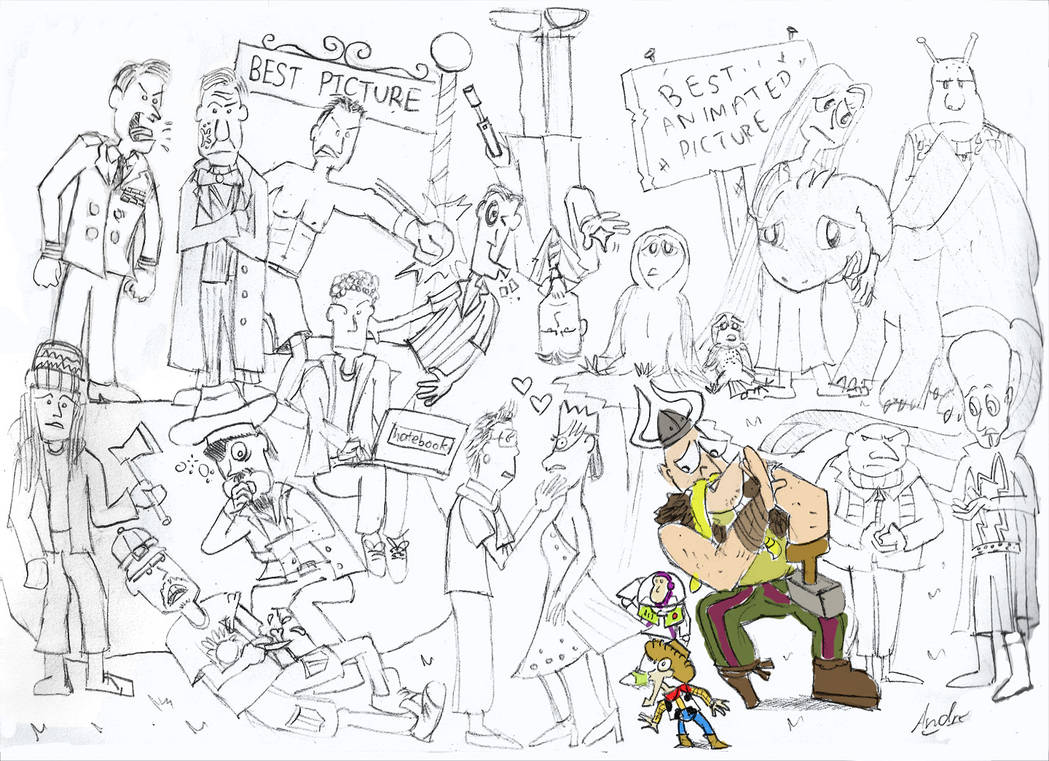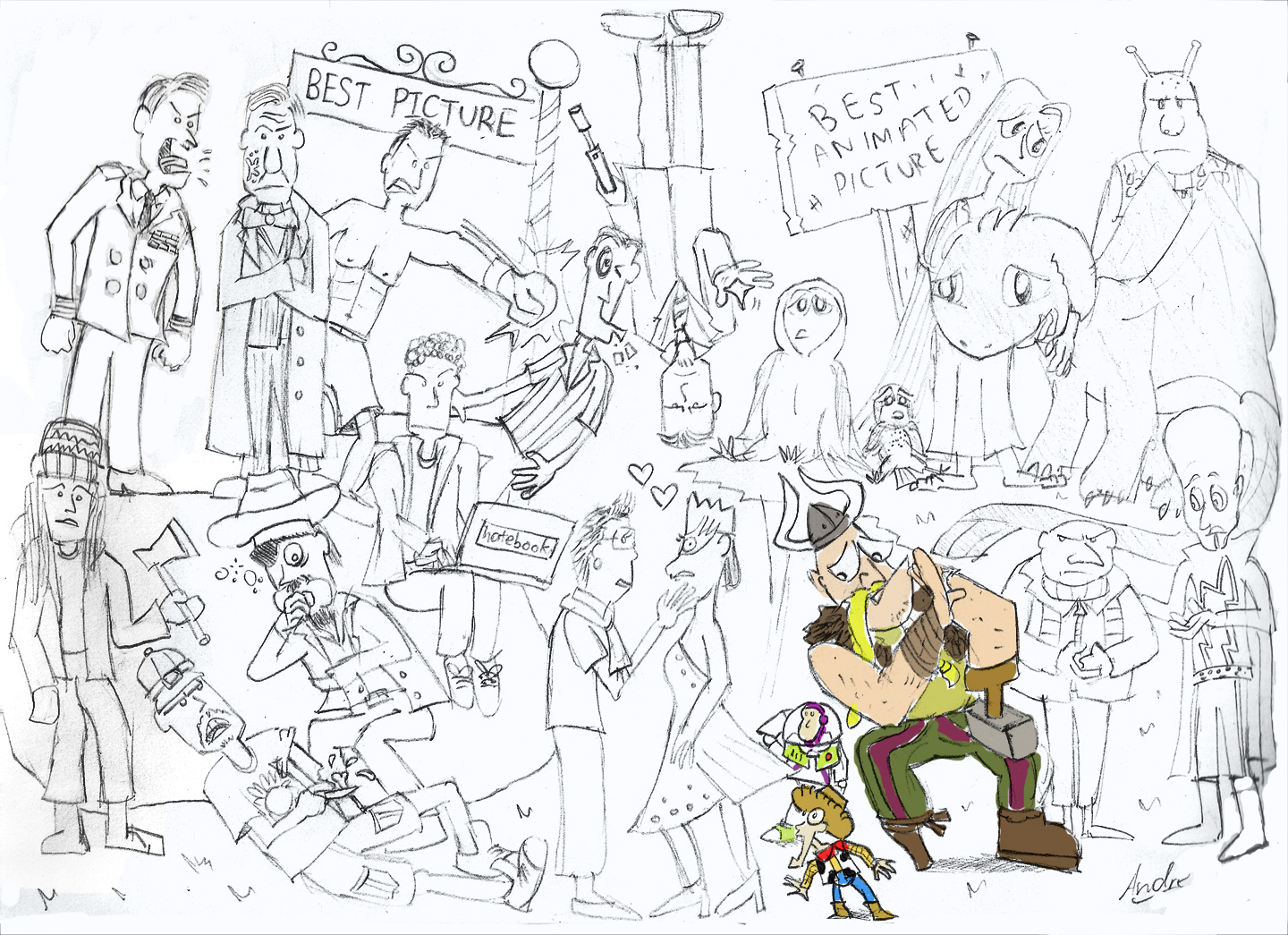 Watch
So by the time this upload appears on dA, the Oscars ceremony would've just begun. I'm rather disappointed with this year's pickings, mainly because of the 'Best Animated Ghetto' quota and the snubbing of two of my favourite films of the year, 'The Town' and 'Legend of the Guardians'.

This piece is my reaction. With all the forced melodrama and over-the-top acting, the 'grown-up' films sometimes feel less matured than the 'kiddy' ones.

It's my most ambitious montage so far, there's 21 characters from 16 films, including all the 'Best Picture' and 'Best Animated' nominees and then some. Toothless and Gylfie are the only ones I've drawn before; the rest are all first-timers. How many can you identify?
Hopefully the Academy will seize the chance to make history unlike last year, 2008, and 1992. If not, we'll all know that it's just a 'pity vote' and it'll be yet some time before animation can be judged on the same merits as live-action.
On that note, I wish 'How to Train Your Dragon', 'Toy Story 3', and 'Inception' the very best. If you don't take home anything, rest assured you have at least one appreciative fan here.

Cool stuff! I like how you've combined a healthy amount of the nominees into one composition. The Shrek is probably my favorite of the bunch.
In regards to critique, unless you intentionally kept things squared off and "edgy"... I would work on giving your characters more dimension so as they're less flat and more rounded. Sharp edges work in some cases, especially if you're stylizing things in this fashion, and I think that your interpretation of Buzz and Woody are fair examples of this; however, if you're going for "correctness", make sure to keep your proportions correct, work on keeping each individual character unique so that their design belongs to them and isn't similar to another character's, and give your creations more form so that they feel more three-dimensional and not flat (unless their design is already flat or unless you intentionally drew them that way).
All-in-all, keep up the good work!

-- Mitch
Reply

Thank you for your detailed and well thought-out critique, Mitch!
I was not particularly proud of Shrek (I drew him in a matter of seconds as afterthought), but thanks! Colin Firth and Rapunzel gave me the most trouble!
Thanks for pointing the 'squareness' and 'edginess' out. I'm actually heavily inspired by Paddy Mounter (he did the Agent Arthur Puzzle Adventure series for Usbourne, dunno whether you heard of 'em) and Martin Brown (the illustrator for the Horrible Histories series). They tend to use stock characters with simple variations, and a lot of dead-pan emotions.
I do realize what you mean, though, by them being a little flat and stiff. I also notice that they look relatively similar in height and shape, especially the 'live-action' characters. I should really have a go at a more organic Carter Goodrich, Nico Marlet or Chris Sanders style. I was not the best in figure-drawing classes, as you can imagine!

Anyway, thanks so much for the honest criticisms. I really appreciate it!
Reply

You are most welcome!
Ha-ha. Sure thing! Many artists are their own worst critic. It seems that the drawings they like the least are the ones that others like the most. But, yes, your version of Shrek, in particular, caught my eye.
No problem. Unfortunately, I've never heard of Paddy Mounter or Martin Brown, but since you were heavily inspired by their art styles the "blocky" designs of the characters here makes more sense.
Yes, they are rather stiff, and, as you pointed out, the shape and height of each entity is quite similar. This isn't necessarily a bad thing, if it's your style, but it is nice to see a little bit of variety, too.
Ha-ha. Hey, that's all right! As artists, we're constantly learning, growing, and practicing. No one starts out a genius (unless they're some kind of a prodigy, of course). It's all trial and error, learning from our mistakes, and improving along the way!
You're most welcome for the comments, and my sincere apologies for replying to you so late!

-- Mitch
Reply

Hmm, I would think that Megamind would be a lot shorter than Gru, not he other way around. lol
Reply

Haha, I thought Megamind would be taller when I was doing this piece.
I had a rewatch of the trailers, and I reckon they'd be about the same height. Maybe Megamind being skinny and Gru being hunchbacked gave me the impression the former was more vertically-endowed than the latter.
Reply

I think HTTYD deserves it. I honestly think Tangled felt more Disney than TS3. I can't tell who the three guys to the far bottom right are, though...
Reply

I agree, TS3 was a great dramatic film, but it felt like 'Grave of the Fireflies'; very sombre and sort of a downer. Not to mention after the high-adventure storylines of Wall-E and Up, this outing felt very pedestrian. HTTYD and Tangled, on the other hand, felt more emotionally-uplifting and fill me with joy.
The three guys to the far bottom right are Gobber from HTTYD, Gru from Despicable Me, and Megamind from Megamind. You have to forgive me, it was my first time drawing them.

Reply

No, I meant bottom left! Sorry! Can you believe HTTYD didn't win anything?! That's the worst thing about the Awards, it's too political in their choices.
Reply

Aw no, have they announced Best Animated and Best Original Score already?

The bottom left three are Jennifer Lawrence's character in 'Winter's Bone', who is an offering an axe to James Franco from '127 Hours' who is sawing off his arm with a penknife to the disgust of Jeff Bridges from 'True Grit'.
I'm so unconcerned with the live-action films that I can't even remember the character's names!

Reply

Yup, they did.
Ah, okay, I see. I have to admit, as much of a downer this year's Oscars are, I'm just glad we can look forward to HTTYD 2 winning best animated two years from now since Pixar has no more competition as far as Toy Story goes.

Reply

Nice work!

Hmm, let's see... you've got Toy Story 3, How to Train Your Dragon, The Social Network, Megamind, Tangled, Despicable Me, Legend of the Guardians, and is the girl with the strange eye mask The Black Swan?

Other than that, I can't tell the rest. I think Inception is in there too.
Reply

Not bad, you got half, 8 out of 16!

Inception and TSN are the only live-action nominees I've seen so far, and I intensely despise the latter. The only others I'm interested in are 'The King's Speech' and possibly 'True Grit'. Like most of the past years, I honestly couldn't care about the rest, who are too arthouse and 'controversial-for-the-sake-of-it' for my taste.
Reply