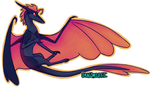 Phoenix ||

|| New Zealand || Taken
Hi, and welcome to my page! I'm just a nervous idiot who has a minor obsession with dragons and a habit of drawing them. My commission info and art status are on the left there if you're interested.
:thumb676180733:
Why are these buttons so broken dear lord
<a href="
toyhou.se/DraconicTui
">
<a href="
artfight.net/~DraconicTui
>
(FA is currently inactive while I figure out how to use it)