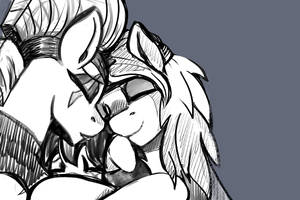 Inks or Pencils
Access to INKED or PENCILLED PAGES - a few days before final page release!
---

Description
--->>> Enjoying LIE? Support the DracoJay on Patreon!<<<---
<-
Back
/
Next
->
Chapter 2.5-> You're already here, silly.
Chapter 2->
Start
Chapter 1.5->
Start
Chapter 1->
Start
Before we can continue on to Chapter 3 to see how Luna and the others will handle Chrysalis and the Changelings, there's a small order of business we have to address.

Welcome to Spitfire's Memory Chapter!
(Also Silverstone)
I really want to live in the clouds now.
------
Ask the LIE Cast
TheDracoJayProduct YouTube
All feedback is greatly appreciated!

Don't forget to Comment and maybe even Watch!
Spitfire is Hasbro's baby
Pierson is my baby
Image size
1584x2160px 1.86 MB