I usually don't care about these things. Especially create something similar to my work without any credit, people copying my paintings, people posting my work without permission, people posting it on their blog with poetry or whatever. After about a decade of making art, you eventually get tired of pointing things out.
But then there are these straight-up rip-offs that I can't ignore.
Mine: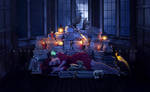 Rip-off:
It's especially sad when a person has skills but doesn't want to come up with their own original ideas and thinks it's OK to blatantly copy someone else's work then hope no one notices.