So a couple of weeks ago I got this note.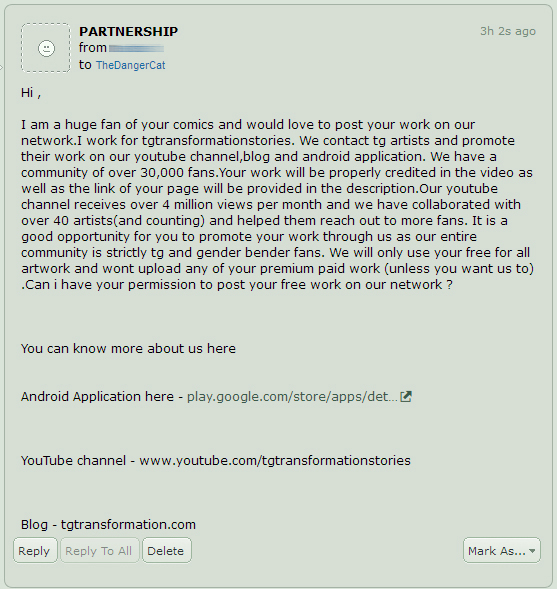 I answered "no" to this. But not before I decided to look into this whole deal. And I found a fair bit of
interesting
stuff.
First of all, facts. Their app is pretty iffy on many sides.

As far as I'm aware, google doesn't prohibit sexual content in your apps. But I'm sure as hell that it's not legal to rate your product as a PEGI 3 when it contains sexual content. Also, I know for a fact that it's both illegal and not possible to self-rate a digital product with either the ESRB or PEGI ratings, so I don't understand how this got rated PEGI 3 in the first place.
That is at best a removal from the Play store and at worst a legal reverie I have no interest in associating with.
Then there is the "Contains ads" statement. Considering that this app looks like a simple reposting aggregate app, that's kinda exploitative. If you look back at the note I got, it doesn't state anything about monetization. Only that "partnering" with them is a way to reach a broader audience. So payment in exposure.
Now let's take a look at what SocialBlade has to say about TG Transformation Stories and their Youtube Channel.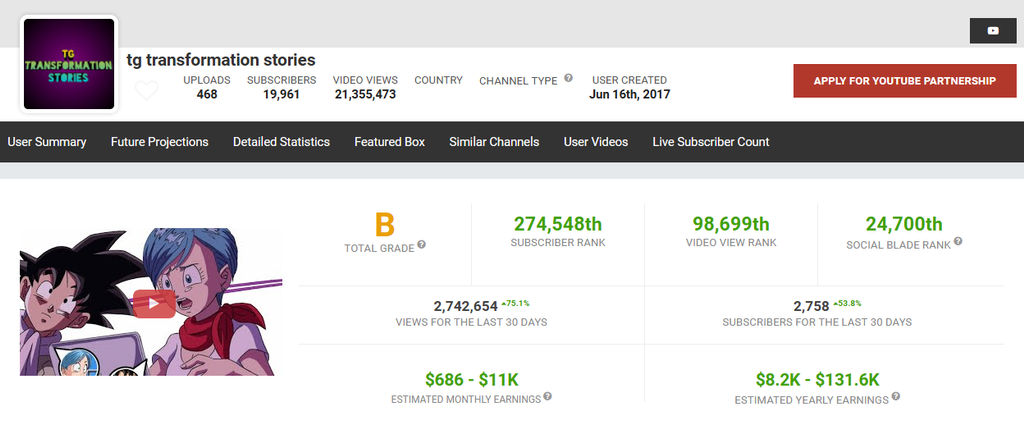 Source:
socialblade.com/youtube/channe…
Hmm... Now I want to stress that SocialBlade only gives
estimates
for earnings. It doesn't actually confirm whether or not ads are run on their videos or not. But I have checked their videos without AdBlock and although it says ads are on their videos, they aren't playing. But that could be a localization issue as I know that ad space on Youtube is sold depending on a myriad of factors. I did ask a friend to check it for me and they had the same experience.
Either way. I'm not making this post to steer attention to this person and their channel. I don't want to start a witch hunt. My main intention is only to warn other TG artists that this "partnership" is pretty one-sided.