oshwa... a handmade recycled tote bag and accessory line made in echo park, ca. designer, sg, was inspired to create oshwa by using recycled clothing that she purchases at local thrift stores & yard sales in an effort to help preserve our environment. all buttons used on oshwa are from the recycled garments. sg also uses her old clothes and linens that she no longer uses. each oshwa is one of a kind and handmade with love!!!
please recycle…..we only get one chance
xo
oshwa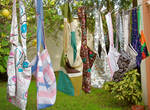 Current Residence: echo park, ca
Favourite photographer: countessian.com & jenniewarren.com
Personal Quote: dance....