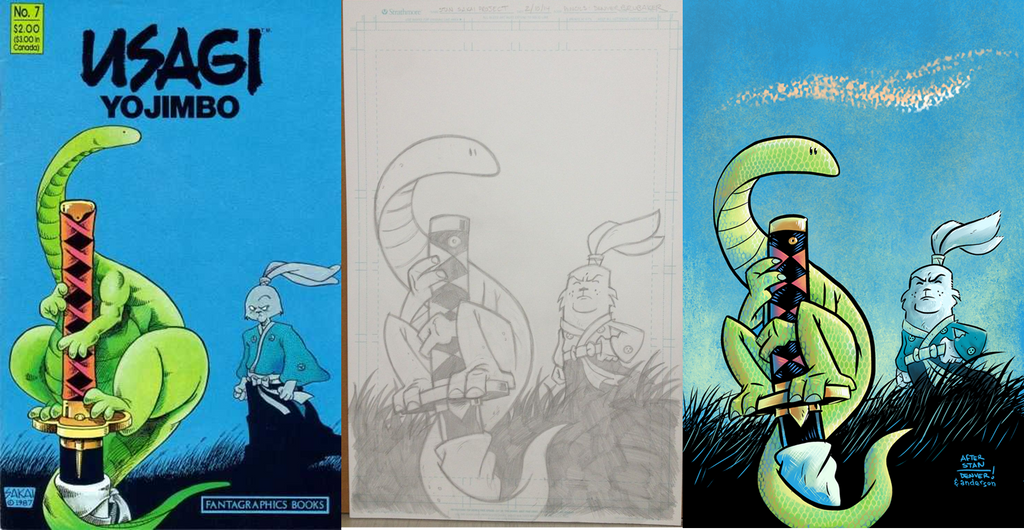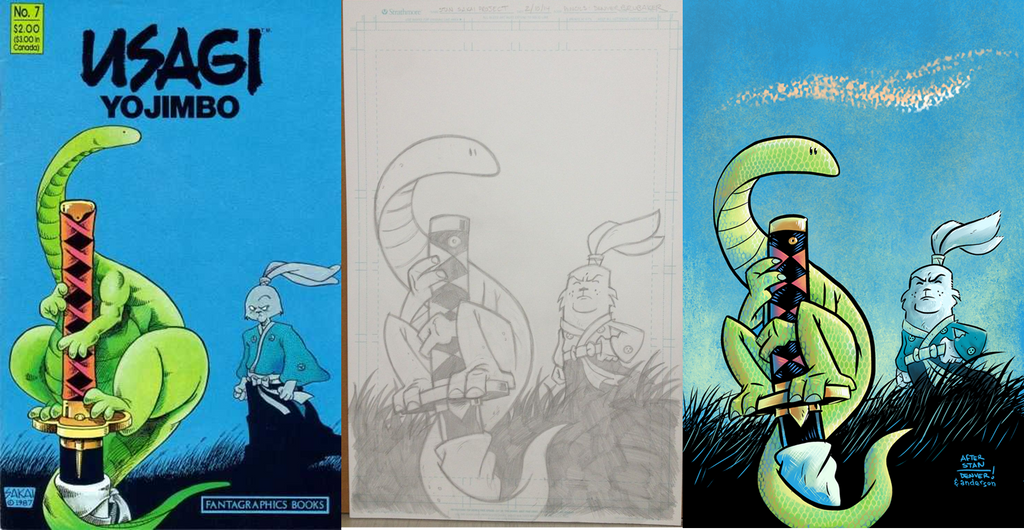 This is a side-by-side comparison of the piece of artwork I submitted to the STAN SAKAI PROJECT coming soon from Dark Horse.
AT LEFT is the original Fantasgraphics Usagi Yojimbo #7 comic cover
AT CENTER is my hand-drawn pencils of the cover recreations
AT RIGHT is the final recreation after digital inks and colors
When I was 18-19 years old I bought a long box of comics at a garage sale for $25 which contained a few issues of the early Fantagraphics "Usagi Yojimbo" comics. The cover to #7 was always stood out as one of my favorites which is why I chose to recreate the piece here for the STAN SAKAI PROJECT.
The cover recreation was penciled w/ 4h lead on Strathmore bristol then scanned then inked and colored digitally. The original pencil artwork is now up on eBay at:
www.ebay.com/itm/STAN-SAKAI-AU…
PENCILS & INKS by Denver Brubaker (
thecheckeredman.com/)
COLORS by Jim Anderson (
ellieonplanetx.com/)
ABOUT THE AUCTION:
This is an auction conceived and organized by CAPS (Comic Art Professional Society) to help aid USAGI YOJIMBO creator Stan Sakai and his wonderful wife Sharon with increasing medical bills due to Sharon's present debilitating illness. We have items by many of the industry's top artists, companies, and fans alike. With over 400 pieces to be auctioned here, we will be listing 30-40 pieces of original art, signed prints and books, and limited edition statues every week. Each auction will run 10 days, and will start on every Thursday for a minimum of 10 weeks. Be sure to bookmark this page, and let's raise some money for a great guy and his family!