Hello all (if anyone reads these)!
It's been a long time since I've been active and submitted anything here on DA. After almost 2 years of inactivity, I finally was convinced to pick up my beads again and make something new. You can see it here!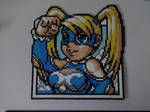 I don't know if I'll be making anymore in the immediate future, but here's showing that I'm not completely dead yet!