Hi,
I'm Entwinedbliss, I've been allowed the honor of coming up with these questions for an interview. I am a self taught traditional abstract artist. I will be just as pleased to see the answers to these questions as anyone else will be. I hope that people get some interesting information from this interview of BoekBindBoetiek. I really appreciate him/her taking their time to do this for us.**********#1. How old were you, when you
started creating traditional artisan
crafts?
I made my first book in my second
semester at art school, in 2008. I
was 20 years old then. My school
had this project weeks twice a year.
The students could pick any class they
wanted outside of their study field. I
chose a class called the Artist Book
Workshop. We ended up making our
own notebook. Then, we were given
the assignment to make a book with
content.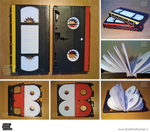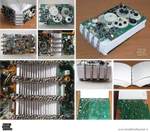 #2. What inspired you
to start doing crafts?
I was really intrigued with the
process and wanted to know if
there were different methods of
binding. Since then, I've read a lot
of books, watched a lot of tutorials
and haven't stopped binding! Aside
from that first week, I'm completely
self-taught! I started making my own
paper only half a year ago. I saw a
demonstration at a book-binding fair
and immediately started thinking
about the endless possibilities!
#3. What type of materials do you use?
Such as, clothes, clay, paints, plastics,
metals and ect.?
The basic materials for my trade
are paper, cardboard, binders-cloth
and binders-thread. However, I love
to recycle and upcycle. Sometimes, I
use materials like vhs-tapes, money,
cd's, computer parts, old tickets, etc.
and make them into something else,
in a way that it's still apparent what it
used to be. I usually just see something
and know I want to use it right away.
Other times, I use recyclables as a basis.
I paint it or shred it and completely absorb
it into the new object. In the paper making
process I use old juice and milk cartons as
the basis for the new paper.

#4. Do you have a specific
place you do your crafts?
I've had my own (shared) atelie
/workshop for a year and a half
now. It's in my new home and I
love it. I used to do everything in
my tiny room that was also my
bedroom and storage space.
Bookbinding is a craft that needs
tidiness. You don't want to get glue
anywhere it doesn't belong. You
need space to cut your board and
you need to store specific large,
heavy tools like presses, paper-cutters
and printers. Now, I have that space.
Where, I make many of the same items.
I call it my own little factory!
#5. How long does it take
you to do a typical piece?
A typical piece would be an a5
sized German notebook with a
cloth spine and covers covered
in patterned paper. The process
of folding, sewing, gluing the paper,
creating the cover and attaching
it would take 3 hours excluding the
pressing, drying times. This is a
minimum because "typical" hardly
ever happens. The thing I love most
about bookbinding is making books
specific to their receivers. Usually,
that means that I have to create my
own patterned paper or dye my own
cloth. I might add objects or remove
parts of the cover. I might choose a
different binding style all together. It's
difficult to guess how long it would take
to finish a piece, before I've decided on
all the elements.
#6. Is there a specific type
of crafts you focus on?
My focus lies mainly on bookbinding.
Within that field, I try everything I
see at least once, except for real
leather bindings. They are beautiful,
but require a completely different skill
set. I love paper! That's why I've
recently started to make my own paper.
With recycled products, but also with fresh
vegetables, plants and herbs.
#7. When you start a piece,
what do you focus on first?
I never start anything without a
sketch. Especially, when I'm making
a custom piece for a client. I have to
be able to calculate the time it would
take and the costs of the book. When
I'm doing my own projects I focus on
materials first. I tend to choose bindings
by the material I want to use. If it doesn't
work I keep the material and try another
way to work with it. I like to be challenged,
I won't stop until I find a way to do it!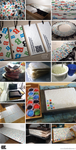 #8. What artists influenced you when
you started and what artists
influences you now?
I love seeing what other binders
are doing. It's said that hand
bookbinding is a dying craft, but
when you've got the internet
around, it's not. It's also not stuffy.
Young people are doing such
wonderful things. I get really
inspired by what they do! I do not
have specific artists that influence(d)
me. Although, I do take inspiration
from every form of art I come across
and the general world around me.
Whether it's a mosaic, a piece of
clothing or the textures of paintings,
I always try to incorporate it into my
work.
#9. What are your aims as an artisan?
Do you want to become a professional
or do you just want to do it as a
hobby?
I've got a legal bookbinding business.
My focus right now is to create brand
recognition. I'm looking for craft-fairs
to see if I can sell my work there. I've
noticed that the people, where I live,
tend to be a bit stoic about these things.
Why spend money on something you can
get for cheap at a department store?
#10. Are there any tutorials that you
would suggest someone to use from
dA? If not, are there tutorials from
somewhere else that you would
suggest?
There are some pretty good tutorials
on bookbinding here on dA. I won't
name specific ones because the truth
is that we all work differently. If you're
interested in bookbinding I suggest
reading more than one tutorial before
beginning. See what ways you are
comfortable with; see what materials
you've already got laying around. I
don't think there's only one way to do
something. To me, creating is about
(re)imagination. So, take an idea and
run away with it. Make your own guide
by simply trying. Change the rules. If it
doesn't work, you know why it should
be done another way.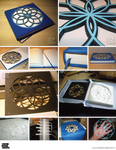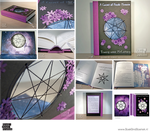 P.S. section
This section is dedicated to the artist being interviewed. It is to allow them to voice anything else about their art. That they feel wasn't covered in the questions above.
People always ask me two things:
- Do you need many specific (expensive)
tools to make books?
- Is it difficult for me when people
start to use my books?
The answer to both questions is no.
You don't need many tools to create
books at all. The important thing is to
improvise. Make a press out of a stack
of your heaviest books, use the back
of your scissors as a bone folder. Also,
use wood glue instead of binders glue,
spray glue for the end papers. Then use
waxed dental floss as binding thread
and so on. If you enjoy the process,
you can start buying or making more
professional tools and materials. Most
of the tools I have now, after 6 years
of binding, I made myself or bought
second hand. I'm also not sad to see my
books used. Whether you see my work
as arts or crafts, they are foremost objects
to be used. A book is made to be read, to
be written in, maybe to be passed down
through generations. It's a holder of
information. So, if they are being used, they
are doing the job I made them for!
**********Once again, I just want to say, I really appreciate
BoekBindBoetiek for taking the time to do this interview.
Thanks and take care,
Entwinedbliss