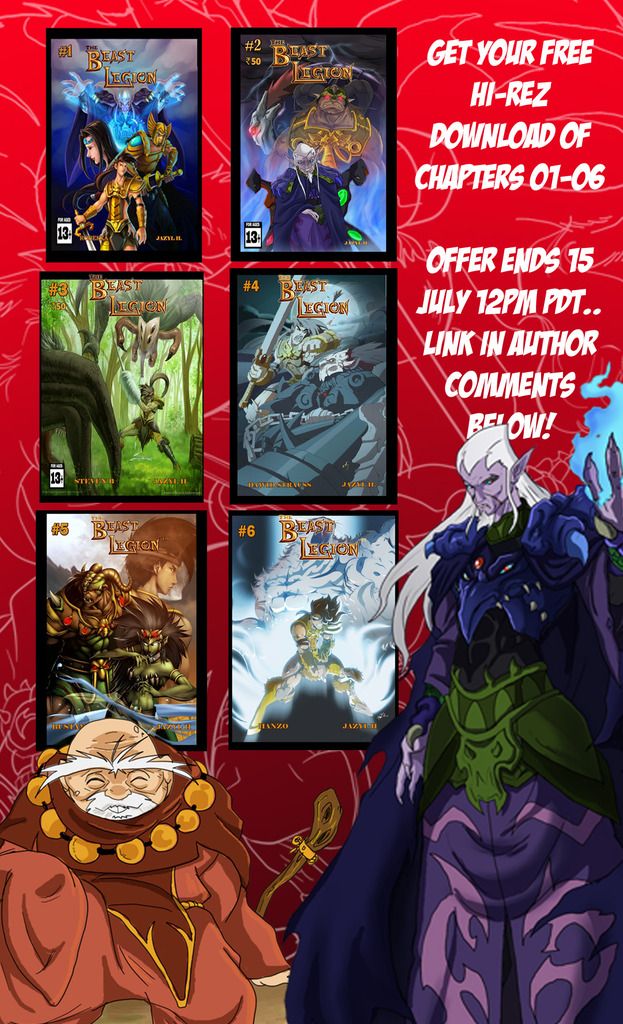 Hey guys,
Those of you who have known me for a while know that I've been creating a manga style fantasy webcomic series called the 'Beast Legion' for the last 5 years. Although I haven't received much of a response for it from my DA fan base I'm hoping it all changes from this year. So In order to celebrate the 5th Anniversary of the series in July I've decided to giveaway digital e-books of the first 6 chapters of the series ABSOLUTELY FREE!! You got that right. You can always read the remaining chapters of the comic freely online on the main site. I want fans to get a kickstart with these 6 books so they clearly understand what the series is about at on go. Visit the link below, scroll down to the Author notes & hit the link to download...
www.thebeastlegion.com/comic/5…
The series is a high fantasy adventure that focuses on the journey of an exiled Prince Xeus, who was learn to master his beast form before he can take on the forces of Darkness that have usurped his home word.I hope you guys will take the opportunity & give the comic a try. It would mean alot to me as it's my dream to have this comic reach ever fan of anime, manga & the fantasy genre out there. Those of you who enjoy He-man & Thundercats will definitely enjoy this series & as wishful as it may sound someday see it turn into an actual Anime show.
For all the latest updates you can either subscribe to our RSS feed
Thanks for reading & I hope you enjoy it.
Regards,
Jazyl H