1. How long have you been on DeviantArt?
I joined about 3 years ago, just to interact with others and start collecting deviations that I found inspirational. But about a month ago, I decided to start my own little system of art pieces on the site, so I slowly began submitting things. August 4 was the day that I officially began building my system.
2. What does your username mean?
Simply put, I have an awesome idea (or rather a GROUP of awesome ideas) that I'd like to share with the world. They will be revealed one by one in the near-distant future. Exciting!
3. Describe yourself in three words.
"That happy guy."
4. Are you left or right handed?
I'm right handed.
5. What was your first deviation?
It was actually a contest entry that I slaved over for around 2 months (oh, cut me some slack... I was trying to discover an art style). I didn't win. Bugger.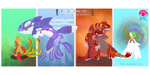 6. What is your favourite type of art to create?
I'm partial to the kind that moves: animation. That's because it can be the quickest way to take someone's breath away, if done right.
7. If you could instantly master a different art style, what would it be?
3D modeling. It's something I attempt on a weekly basis, but my brain just can't wrap itself around it. It creates some spectacular art, but I've yet to even come close to mastering it.
8. What was your first favourite?
My first favorite was actually what convinced me to finally set up an account and start favoriting stuff. I still look at it today, and it still inspires me.
<da:thumb id="197147822"/>
9. What type of art do you tend to favourite the most?
Anything that has an obvious original flair to it that could spark some ideas of my own. Perhaps that's why I've always liked concept art.
10. Who is your all-time favourite deviant artist?
That's a tough one, since I've never really given 100% of my attention to a single artist... Artgerm would be a predictable choice just because, well, Artgerm. I do love wnorazura for her fantastic animations, and I like Orioto for his ability to bring life to old nostalgic games.
11. If you could meet anyone on DeviantArt in person, who would it be?
Easy! I'd choose fyre-flye, a.k.a. Lauren Faust. She's a brilliant story teller, and her MLP cartoon series in particular drips with utter brilliance. Those cartoon ponies captivated me within the first 30 seconds of episode 1 (I timed it). If I met her in person, aside from having a good conversation about cartooning, I might ask her to doodle Rainbow Dash (though Rarity still is, and always will be, best pony).
12. How has a fellow deviant impacted your life?
Well, I actually have not been around here long enough to personally get to know anybody. Yes, my account is 3 years old, but most of that time was spent just collecting favorites.
I COULD tell you of someone who's work inspired me quite a lot. Again, it'd be fyre-flye. I remember looking over her profile over and over again, checking out her concept art for MLP: FIM. Those sketches of cartoon ponies had a silly, heartwarming, and charming look to them that I've hardly found anywhere else. That same look is the kind that I'd like to place in my own characters.
13. What are your preferred tools to create art?
With Photoshop, After Effects, and a good tablet, I can make some pretty interesting compositions. But outside of digital art, I'm good with just a pencil and the nearest index card. Seriously, I have a pile of index cards sitting next to me on my desk, waiting to be doodled on...
14. What is the most inspirational place for you to create art?
Any place that smells like coffee.
15. What is your favourite DeviantArt memory?
The first time I ever received a comment on one of my deviations.