In this next

challenge, you must submit the Thumb code of the artistic piece you used to discuss your ideas with the production team and the Thumb code of the final product. This contest is open for ALL theatre artwork used to create a piece of live theatre (a play). We know that what you draw is not always what ends up on stage, yet your work still looks good. DEADLINE IS MAY 15 at 5 p.m. central standard time. Judges will be introduced soon. All art and craft areas of theatre are encouraged to accept this challenge! You may submit artworks already in our
#TheatreArtist
's galleries! You may submit as many as you wish, as many of our members work in more than one category.
Our usual categories are: Scenic Design category, Costume Design category, Properties and Masks category, Scene Painting and Tech Work category, Fine Art and Design category (posters etc.), Make-up Design and Wigs category, and Lighting Design category. We'll develop a miscellaneous category if need be.
Send us the Thumb code of the rendering ( model drawing whatever the original artwork is) and the Thumb code of the final product. We'll place the two next to each other for the judges. They'll want to see the rendering next to the reality. Here's an example.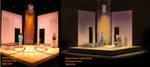 Contest Guidelines:
1. In your description of the artworks, state the name of the play
2. Tell us your position on the production (props artisan, costume designer, lighting designer, etc.)
3. How many audience members does the theatre hold?
4. Was this a school production or a professional production?
5. What interesting materials or processes did you get to use in making the artwork or the product?
6. Tell us about the restraints or problems, you had in completing the product if there were any. (Examples might be: no money, poor budgets, lack of personnel helping you, rotten paint, the wrong kind of thread, not enough ellipsoidal lighting instruments, the dye vat broke, etc.)
7. Tell us about the successes, fun happy accidents, beautiful moments you had in completing the product if there were any. (Examples might be: New light board operator who really got the timing down well, really weird trim that was fabulous when dyed, donated lumber from a local company, finding out the ACAD drawing does actually print on the office printer, and so on.
Here is a list you can copy and paste:
Name of play
My job
Number of audience members
School or professional production
Interesting materials used
Problems
Successes
Contest Objectives:
We know that what you draw is not always what ends up on stage, yet your work still looks good. The process of moving from rendering to reality is full of surprises.
Our goals are to:
1. choose the most interesting artwork (rendering) to successful product story (reality).
2. choose the most beautiful rendering and reality pair
3. choose the most well-matched rendering and reality pair
4. choose the most ill-matched rendering and reality pair.
ALL CATEGORIES OF THEATRE RELATED ARTWORK QUALIFY.
So, send us your props drawings, lighting storyboards, light plots, costume renderings, scenery renderings, scenery models, costume collages, technical draftings, construction drawings, paint elevations, poster mock-ups, and also the picture of the final product.