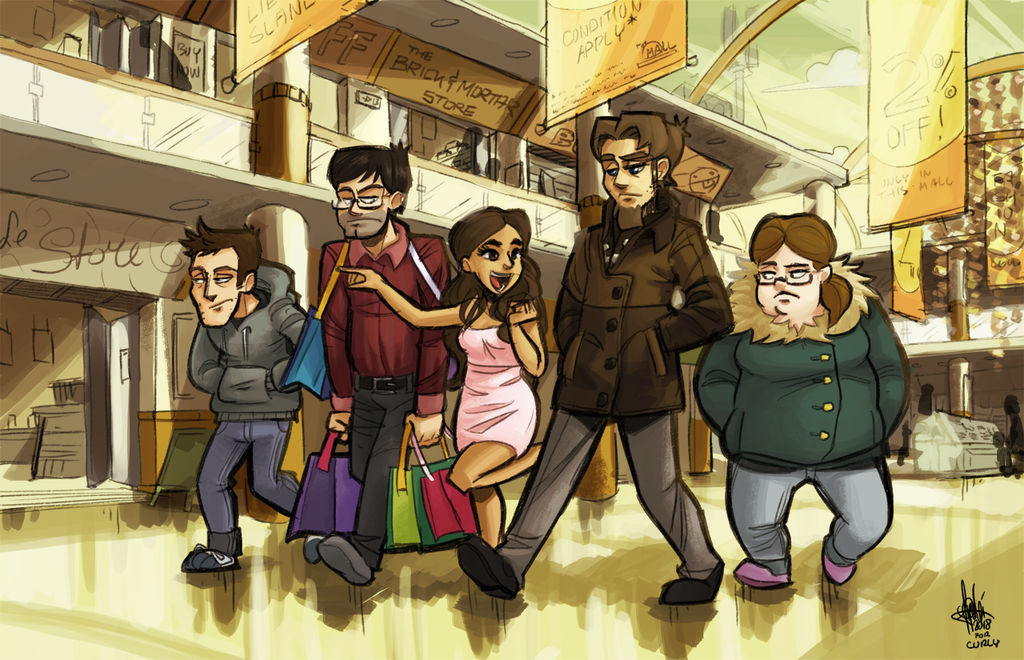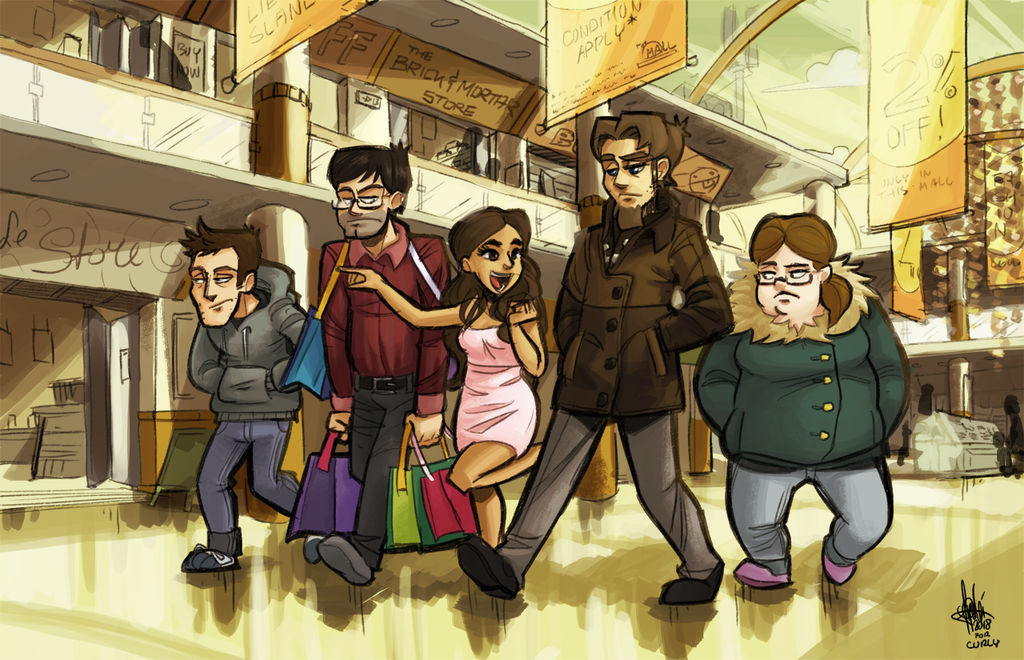 Watch
This deviation was commissioned by MrsCurlyStyles.
MrsCurlyStyles
is quite a regular in my streams and my Discord server, but due to circumstances I will not detail here, she is not able to join us with the madness that is Artrixcon (which is essentially just a glorified name for "vacation"). This is her idea of what she would do if she were with us, though;
shopping~
The thing is that the rest of us are not particularly fond of shopping (at least the kind she would engage in) so the result is basically a bunch of people slouching through a mall while one of them exitedly guides us from one expensive shop to the next.
This was an interesting piece to work on. The scene itself doesn't really leave much to the imagination (it's just a mall, after all), but making it look like a nice scene and drawing the crew was interesting.
People featured in this picture, from left to right:
OllaClenis
shivanking
MrsCurlyStyles
TheArtrix
maylee

I like how your clothing vary from short sumer dress to winter jacket with fur.

Reply

Well, it was Curly's idea to be walking around in a dress "because it's fancy". Oh well, judging by Bak, it isn't even that cold out there.
Reply

Look how happy she is

Great drawing of the mall

Reply

Look at all those morose europeans!
Reply

Yup, she's either oblivious to it, or finds it appealing in some bizarre way.
Reply

Reply

You got a typo. The title is supposed to be "A Day in Hell".
Reply

When the American in your posse, sees the inside of a European Mall the first time in their lives.
Reply

While she isn't American, generally speaking, European malls are definitely not as big as their American counterparts. We definitely have some really nice looking ones, but I typically avoid them because they're usually full of horrendously overpriced luxury goods that I don't even care about.
Reply

I think when they design malls in Europe. I think they were meant for corrupt EU Bureaucrats and Russian Oligarchs, not individuals like you and I.
Reply

Meh, depends on the mall. Most malls over here would make no sense if they really were just for EU bureaucrats (who mostly live in Brussles and Strassbourg, anyways) and Russian oligarchs, for they are usually just a collection of stores for the common plebs. But those stores seem to be moving to the outskirts of town, so malls have become even more irrelevant.
Reply

I think Malls normally work for us better due to higher population and the crazy capitalistic ideas that emerged during the postwar America years. I think most Europeans like the ma and pa style of marketplace in terms of tradition and that some European countries have a smaller population. Plus I do not think most quaint villages on the river want a huge department store with a huge parking lot as it would be a eye sore. Like a Tower Block apartment building.
Reply

You may be romanticizing Europe a little bit here; while small, quaint little towns and villages certainly exist, and they're kept mostly intact because tradition and tourism, the population of Europe is certainly big enough for a great number of malls. For instance, after visiting Salzburg, Austria, we went to
a mall
go get groceries and were completely caught off guard by just how big it was (and how many people there were). This was in stark contrast to Salzburg itself, which is a medium-sized city. It may not be your typical American suburban sprawl scenario with big box stores and endless slabs of asphalt, but for every quaint tourist town there are 20 ugly as sin shopping strips, mini malls and retail parks.
Reply

The horror, but I never knew that because it is Salzburg. Thank you for clearing that up Mr. Artrix.
Reply

Reply

>cheese
>mundane commodity
>luxury good

You sure you don't still live under communism where toilet paper is considered a luxury?
Reply

Your pose almost makes me want to see this repurposed as an "Abbey Road" spoof.
Reply