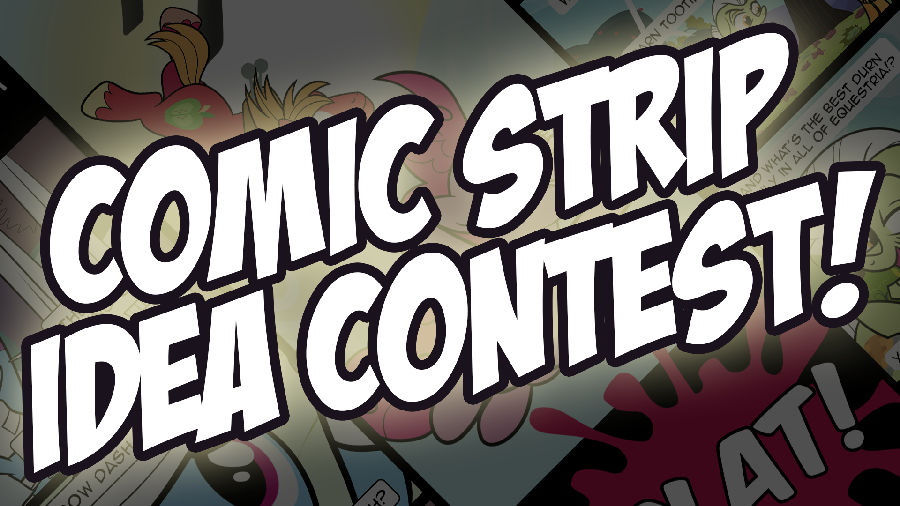 It's happened to most of us: you come up with an idea for a story or fanfic, and you think, "Man, this would be great as an episode of My Little Pony!" This is your chance for your idea to become an awesome comic strip, courtesy of
Drawponies
!
Here's the deal:
You can submit comic strip scripts, and the community will vote on which is their favorite. The winner gets $100 and their script made into a comic!


If you are interested, please make sure to read and follow the submission rules below. May the best script win!

If you do not follow these, your submission will be disqualified.
1. Ideas must be your own work. Don't copy an idea from someone else's tumblr, fanfiction, etc. You may use original ideas from your own fanfics or other prior work.
2. Absolutely no NSFW, gore, or profanity. If you wouldn't show it to your mom, don't submit it.
3. Canon characters only. "My OC" ideas are not allowed. Exceptions to this rule:
a. Humanized ponies (Not Equestria Girls. If you submit EQG ideas they will be drawn in an original humanized style)
b. Little Pip, Blackjack, and associated characters from the fics Fallout: Equestria and Project Horizons.
c. Canon modified in a small way (Examples: Gender swap, alternate species, crossover)
d. Button Mash (fanon version) and Button's Mom
4. Keep it short. One-shot comics only - no multi-part ideas. No more than 6 panels.
5. You may sketch the panels if you like, but this is not required.
6. You MAY ask your friends to vote for your submission in the community voting process. You may NOT use voting bots or other unfair tactics.
Submission deadline is January 31st at midnight, Eastern Standard Time.
Semi-finalists will then be chosen and the community voting period will continue for the next week.



You are much more likely to win if you use these principles.
Remember what your english teacher taught you: K.I.S.S. "Keep it short and simple." 2-4 panels is optimal.




Focus on submitting a small number of great ideas, rather than a large number of "meh" ideas.




Usually, the MAXIMUM amount of dialog per panel is 2 or 3 short sentences or 1 or 2 medium sentences. Examples:




Lyra: Honey, where are my pants? Bon Bon: You don't have any pants. You're always naked.

Celestia: When you ate my piece of cake, I banished the moon to you.

Most people will skip a wall of text, so tell your story visually and with as efficient a use of words as possible. Maybe you don't even need text to make your idea work.




Generally speaking, especially for humorous comics, you want the following formula: Title, Setup, Punchline, Resolution, in that order.




Consider the pacing in each panel and plan your comic for maximum impact. Who should speak first? Who should give the punchline?




Think about the look and feel of your comic. What expressions are the best for your dialog? What visual arrangement of your comic is most effective?




After you finish your comic, let it sit overnight and evaluate it again the next day with fresh eyes. Be sure to check for spelling mistakes.




Send your script to your friends and ask if they have ideas for how it can be improved.






Post your script on Deviantart, Tumblr, or Google Docs and link to it in the comments of this contest post. Use the script formatting in the next section.

It's necessary for there to be a link to each submission so I can link to the semifinalists in the polls.

To post a comment will require a Deviantart account. You can create one here if needed. Please watch Drawponies on Deviantart if you haven't yet



If you post to Google Docs, make sure that you set the sharing settings to public
Submission deadline is January 31st, 2015 at midnight, Eastern Standard Time. You may enter as many times as you like, within reason. Post a separate link for each submission so that it is clear how many you have submitted.

I will choose 10 or more of my favorite scripts for evaluation, and create one or more polls to let the fans decide which is their favorite.




When you are preparing your script for submission, use the following formatting so that it is easy for me to understand and evaluate it.

Title: Comic Title
Panel 1: (Description of character posing and expressions, panel background, props, costumes, etc. as needed)
Character A: "Dialog"
Character B: "Dialog"
Panel 2: (Description)
Character A: "Dialog"
Character B: "Dialog"

Notes: Extra detail goes here

Comic strip idea for the contest on drawponies.com
Enter your own ideas for the chance to win $100!

Author name - example.tumblrordeviantart.com

The comic that wins in the community voting portion will be drawn out as a finished comic. The author will receive $100 via either Paypal or an Amazon gift card via email.
If you win and cannot get access to Paypal or Amazon, just message me and we can work something out. You also have the option for me to donate the funds to a charity, such as Bronies for Good.
I will notify the semifinalists and the winner via Deviantart private message. The overall winner will have up to two weeks to claim their prize. If the prize is not claimed, the runner up will be notified.
Runners up will be chosen by me to also be drawn out as finished comic strips. This means that, by submitting an entry, you give me permission to make it into a comic, even if you are not the overall winner. Authors will receive credit in the description of the comic and a link to a website of their choice (website linked must be Safe for Work).
By submitting an entry, you also give me permission to edit your script if I deem it necessary. Even if the script is edited, you will still receive full credit for the idea.

Suggestions for coming up with ideas:
Boardgamebrony wrote down dozens of great prompts to get you started. Find those here!
Rewatch an episode from season 1-4 of the show, and write down ideas as you watch
We have hundreds of polls, the majority of which are filled with ideas that would make great comics. Click to read through them for inspiration (look on the right hand side of the page for links to old polls)
Brainstorm with your fellow bronies in the comments below!
Here are a few examples of some of our most popular comics:
<da:thumb id="460625243"/>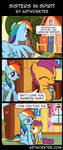 Below is an example of a script that I wrote for
this comic
.
Here is how this script looks as a Deviantart submission
.
Title: A New Hero
Panel 1: (Rainbow Dash looks sad)
Rainbow Dash: "I'll never be a wonderbolt ..."
Pinkie Pie: "Rainbow Dash, are you … feeling blue!?
Panel 2: (Rainbow Dash looks up at Pinkie Pie)
Pinkie Pie: "Looks like a job for …"
Panel 3:
(Pinkie Pie hugging Rainbow Dash, Dash looks happier)

Pinkie Pie: "THE HUGINATOR! "

Every entry is valued and appreciated! Remember, it's not about winning, it's about having fun and expressing your creativity



If you have questions, feel free to ask in the comments below, or ask me on Skype - my username is neilthenerd1 I will do my best to respond to everyone.