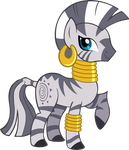 Welcome to the Zecora Group!


Read the rules for the club here:

Everypony is welcome, you just have to like Zecora!

Submit your artwork to the correct folder please, "Zecora The Zebra" is for Zecora only, "Zecora As A Human" is for Human Zecora artworks, "Zecora With Other Ponys is for group pictures and "Miscellaneous" is for figures, papercraft etc.. You can upload so many artworks you want per day.

Mature content is okay, but please be careful with this artworks because younger people can look at this group too.

Don't submit official artworks, screenshoots, WIPs or stolen pictures!

Respect all the other members and be friendly even they don't have your opinion!
Read the rules and follow them, remember, Pinkie will

watch you forever!

Pinkie Pie's Evil Enchantress Song
www.youtube.com/watch?v=2mlcVx…
She's an evil enchantress
She does evil dances
And if you look deep in her eyes
She'll put you in trances
Then what will she do?
She'll mix up an evil brew
And she'll gobble you up
In a big tasty stew
Sooo... WATCH OUT!


Zecora videos on YouTube

"You're Doomed"
www.youtube.com/watch?v=kExtNV…
"The first episode with Zecora"
www.youtube.com/watch?v=1WcpZm…
If you have any questions, feedback, tips or a discomfort, just send a note to the founder of this group.

Requests for contributors are open. If you want to be one, just send a note or a comment.

100th Member



300th Member


500th Member

The group avatar is from the awesome *jewlecho.