what is STREET photography
The street Photographer's RIGHTS

Welcome to The Yard Collective
Street Photography Club
A lot of our members have been wondering about their rights to take pictures in the streets. Is it legal? Is it not?
A brief search in the Internet provides us with 5 very useful links!
1. For the U.S photographers:
The Photographer's Right
: A Downloadable Flyer Explaining Your Rights When Stopped or Confronted for Photography
2. For the U.K. photographers:
UK Photographers Rights Guide v2
: The guide is intended as an overview of the current legal situation in the UK for photographers, it is not a definitive bible of UK law.
3. For the Australian photographers:
Australian street photography legal issues
: Your right to take photographs
4. For the Latin American photographers:
Derechos de los fotógrafos
5. For the Swedish photographers:
Vad får man fotografera?

A similar search (thanks to google) will probably provide you with the laws that concern photography in your country.
BE INFORMED and let no one deprive you from your rights!
*****************************************************
Please, DO NOT send watermarked images.
They will not be accepted.
Support the YSD awards!
the-yard-collective.deviantart…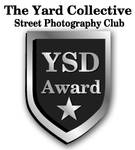 Suggest one now!