what is STREET photography
The street Photographer's RIGHTS

Welcome to The Yard Collective
Street Photography Club
CLICK on the following LINKS for the RULES of the Club:
OUR AIMS and OBJECTIVES
How to JOIN

How to SUBMIT

MEMBERS' LIST

MEMBERS' DDs

THE PLAYGROUND

AFFILIATES NEWS
The YARD'S MONTHLY CONTEST
Show us your BEST every month and get featured
Read the exclusive Yard interview here
news.deviantart.com/article/88…
*****************************************************
How to JOIN
1. Add us to your watch list.
2. Add our avatar to your journal like this:
Member of : iconthe-yard-collective :
without the space between : and i, e and :
so it will look like this:
Member of

.
3. Send us a note with title "JOIN".
If all this has been done the Yard will watch you back
and you are officially a member of the club.
Your membership is confirmed when you see your name in our friends list. Usually you'll receive a welcoming note too.
4. Read ALL our future journals!
This is the only way to stay informed
about the club's activities
and be an active and participating yardie!
How and what to SUBMIT
All works must be
street photography
.
What is street photography:
the-yard-collective.deviantart…
Every member who wishes to submit his/her photographs
may send us a note with subject:
"SUBMIT"Please,


ONLY ONE NOTE per day with ONE THUMB in it

What the thumb is: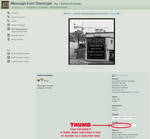 .......................................................
It is not necessary that all the submitted pictures
even if they belong to the street category
will be accepted.
This absolutely does not mean
that your pictures are not good!
The admins of the club are not obliged to explain the reasons of accepting or not a submission but will do so, if time permits them.
*****************************************************
Please, DO NOT send watermarked images.
They will not be accepted.
Support the YSD awards!
the-yard-collective.deviantart…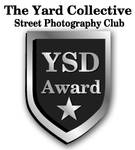 Suggest one now!
Create your own visitor map!
*********************************************
Founders of the Yard





Administrators