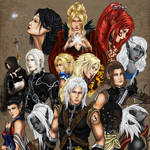 "Welcome to the Shredded Lands, wanderer. If you are here, I guess you already know me. I am the First Born of this dying world, Ruler of Chaos, Bringer of Hope and Dark Light of Freedom... I am the Great Duchess of Asuras, Lady Odessa Shadowclaw. Now, don't be afraid... Come closer, let me tell you a story... The story of the Shredded Lands..."
So... I've never imagined that I could open my own group!

What are the Shredded Lands ? Actually it is a group of different fantasy stories I created and decided to unite in one big world. The different countries had to pass through terrible events... and this is how I found this name. Yesterday... Shredded Lands... It is something important for me. The whole story is slowly being created. I still need to work a lot on it. And I will! Your support, comments are really appreciated, you helped me a lot in your depictions of my characters, your ideas.
The Shredded Lands have been created in order to be expansed again and again. Everyday a new continent can be created. This world is also...
...Yours.

EDIT: The folders are not the final ones, I will probably organize the group gradually. And for now, I think I do not need contributors or admins, not because I'm selfish

but because I think I can administrate the group alone and I don't want to bother other people with this

The stories will probably be in French, it's easier for me to write in my mother language but I will try to do my best to offer you a translation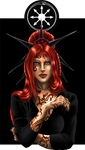 "Bienvenue sur les Terres Lacérées, voyageur. Si vous êtes ici, je suppose que vous me connaissez déjà. Je suis la Première Née de ce monde en déclin, Haute Prêtresse du Chaos, Porteuse d'Espoir et Lumière Obscure de la Liberté... Je suis la Grande Duchesse Asura, Dame Odessa Ombregriffe. Maintenant, ne soyez pas effrayé. Approchez, laissez-moi vous conter une histoire... L'histoire des Terres Lacérées..."
Bon... Je n'aurais jamais imaginé que j'allais ouvrir mon propre groupe!

Alors que sont les Terres Lacérées ? Elles sont nées de la réunion de divers mondes fantasy que j'ai créés et que je voulais faire cohabiter. Ces mondes ont connu de terribles événements qui ont donné son nom à l'univers global: Les Terres Lacérées. Un nom que je n'ai trouvé qu'hier. C'est quelque chose d'important pour moi. Cet univers commence à prendre forme, son nom commence à guider son histoire, son orientation. Je dois encore y travailler beaucoup. Et il y a énormément de choses déjà mises sur pages que vous n'avez pas encore découvertes. Votre soutien, vos commentaires m'ont profondément aidée. La manière dont vous avez vu et compris mes personnages aussi.
Les Terres Lacérées ont pour vocation d'être sans cesse ré-imaginées, agrandies, développées. Chaque jour peut signifier la naissance d'un nouveau continent, d'un nouveau concept. Cet univers est aussi...
...Le vôtre.

EDIT: Les galeries ne sont pas définitives, j'organiserai probablement le groupe au fur et à mesure. Et pour le moment, je crois que je n'aurais pas besoin d'admins ou de modos, non pas que je sois une grosse égoïste

mais plutôt car je crois que je vais pouvoir l'administrer seule et car je ne veux pas vous embêter avec ça

Les histoires seront probablement en français car il m'est plus facile d'écrire dans ma langue maternelle pour faire passer les sentiments, les idées (c'est assez évident, non, ce que je dis là ?) mais, DA étant une communauté majoritairement anglophone, je vais essayer de proposer une traduction