Mature Content
This content is intended for mature audiences.
---
or, enter your birth date.*

Month
Day
Year*
Please enter a valid date format (mm-dd-yyyy)
Please confirm you have reviewed DeviantArt's Terms of Service below.
* We do not retain your date-of-birth information.

Watch
The Serial Killer had a unique way of disposing of his victims bodies.
After snuffing Mrs. Sandman with a pillow he placed his accomplice between her spread legs.
The tiny creature wriggled its way between her legs, attracted to the warm secretions.
It grew larger as it fed and in a few hours there was nothing left of poor Mrs. Sandman.
The creature made it's escape by slithering down the toilet in search of another corpse.

Thanks to MOLD666 for this wonderful manip of my original photo!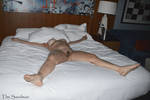 It seems that the slimy creature and enjoyed this pretty pussy

Reply

Sandy Sandman escaped from a bad marriage, a statement many might question since she was eaten alive and her husband brought her consumer into her bedroom. But she was the one who suggested it, and badgered him into doing it. Besides, her consumer ate her as he ate her, and she climaxed at least a dozen times on the way in.
Reply

my tongue could be the beast...
Reply

It would take the tongue of a beast to satisfy her.

Reply

what a slimy monster! well done
Reply

Reminds me of The Hidden.
Reply

Another partner in crime .. the hungry slithering creature
Reply

Reply