Mrs. Sandman CORPSE CREATURE
Mature
  |  
Published: October 14, 2018
The Serial Killer had a unique way of disposing of his victims bodies.
After snuffing Mrs. Sandman with a pillow he placed his accomplice between her spread legs.
The tiny creature wriggled its way between her legs, attracted to the warm secretions.
It grew larger as it fed and in a few hours there was nothing left of poor Mrs. Sandman.
The creature made it's escape by slithering down the toilet in search of another corpse.

Thanks to MOLD666 for this wonderful manip of my original photo!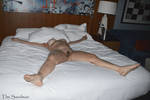 Image size
2732x2048px 396.92 KB
IMAGE DETAILS
Software
Adobe Photoshop Elements 14.0 (Windows)