Mrs. Sandman was all dressed up for a night of man hunting when she heard a slimy, sucking sound behind her.
She turned around slowly, afraid of what she would see.
The monster was almost upon her! The thing backed her into a corner then pinned her to the floor.
In seconds she was smothered unconscious.
The beast spread her legs apart then spilled it's alien seed inside of her.
Mrs. Sandman was going to be a MOM.
............................
Thanks to
MOLD666
for this wonderful manip of my original photo!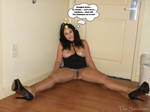 Image size
1024x768px 130.88 KB
IMAGE DETAILS
Software
Adobe Photoshop Elements 14.0 (Windows)