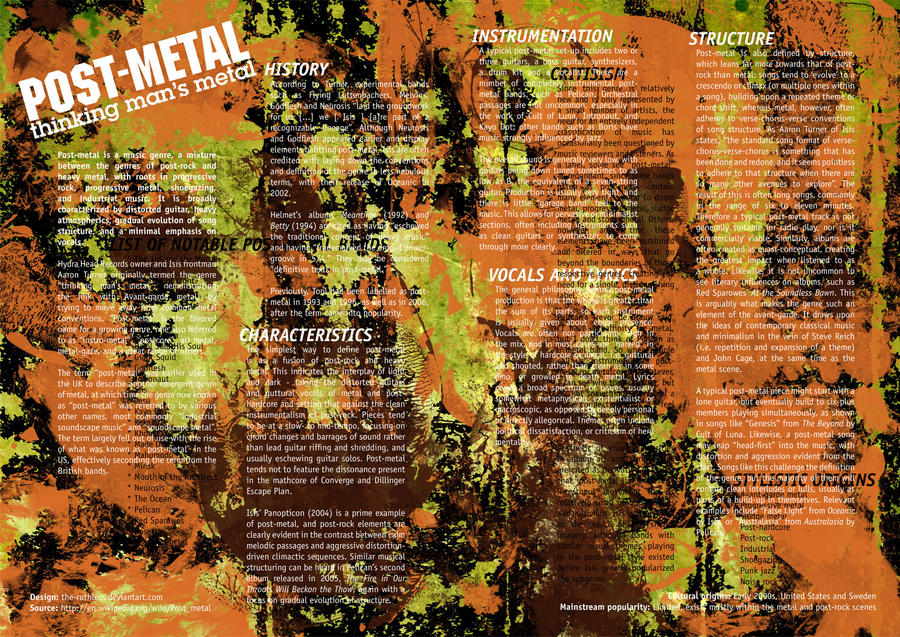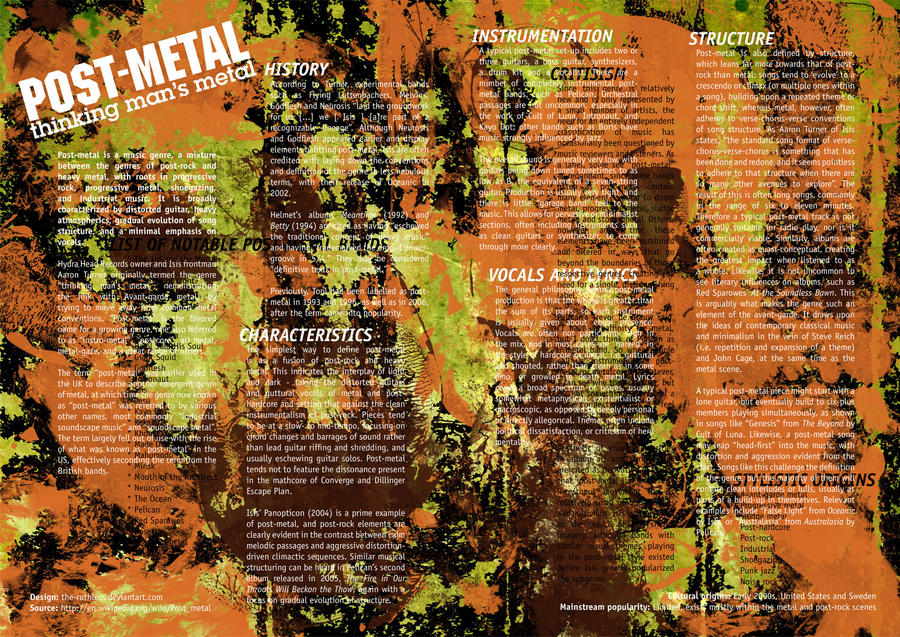 Watch
I was trying to design some kind of news paper deal for ~
msfrost
, and suddenly I got bored and things got a bit out of hand...
Probably two hours, listening to Baroness and Rosetta.
Photoshop, Illustrator and InDesign, all CS2.
I know; it's not really all that awesome, but I had to do it. Trying to capture the feel of post-metal with typography and background.
And it's not meant to be readable at all, it's just for aesthetics.

Oh crap! its a long time since you uploaded anything now.
Good thing it wasnt meant to be readable, because it aint.

Reply

I know. And you can kinda understand how immensely bored I got by the plain news paper bit I was making, hmm?

The size is A4, by the way, and it is (the white text, anyway) quite readable in that size.
Reply

hehe, I understand that.

it really isnt the size of the letter that makes it unreadable. Its more to do with the background.
Reply

...and perhaps your dark and blurry monitor has something to do with things, hmmm?

However, yeah, there are several problems here. #1: Monitors may suck monkey balls.
#2: The piece is JPEG (q60), and then scaled down by deviantArt. The text would be much smoother if I had used PNG, but then the file size would be pretty darn huge.
#3: Full-size is recommended. The whole spread fits on A3.
#4: ...it's not meant to be read.

Its just for your general visual viewing pleasures.
...and I haven't done any design in ages and is really rusty.
Reply

I´m looking at it at work now. so it isnt my crappy monitor. It isnt that it cant be read, it just that the background is too messy and active to make for a pleasant reading expirience. No matter what monitor you view it on, or what quality it is, or if it is jpeg or png, even if you blew it up to A2 in perfect vector quality it would still be to much action in the background.
But it really doesnt matter since you said it wasnt meant to be readable.

mhmm, you need to get back in the flow.
Reply

No siree, it ain't. Pulling a david carson, are we?


It's very colorful though. But I'm thinking "rave scene with fake ass camo colors" and not post metal, for some reason..
Reply

I'm pulling your leg, if anything.

Personally, I get no instant rave scene feeling, however... And I'm kinda into the electronic dance scene in Trondheim. (I don't dance, but I do go to most of the events.)
But I've obviously missed the point. It should have had more of a seventies psychedelic feel to it.
Reply

hehe, I´m not too sure what post metal is and what it looks like, but it does have a bit of the "rave scene" look to it now that you mention it.
Reply

I don't really know any of the scenes that well..
I probably listen to some post metal bands, but without knowing what genre they're playing..
Reply

Isis, Pelican, Neurosis and so forth.
What is this "rave scene" look that you guys think of?!
Reply

ah, well I never really liked pelican.
Reply

I can see why. Its one of those bands that reeeeally sounds crap on lame speakers. Like yours. Is okay, I still be your friend. ^^
Reply