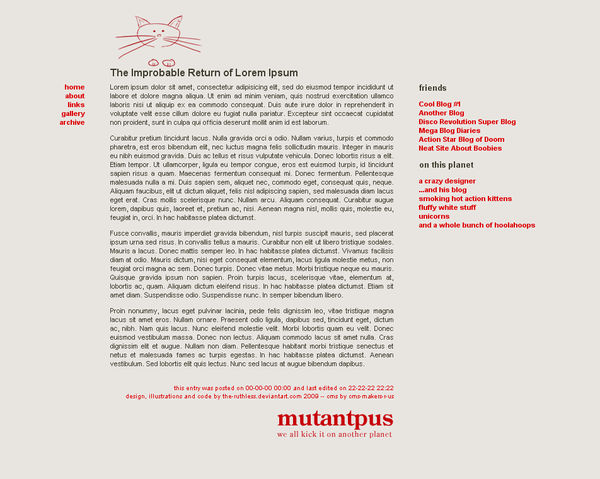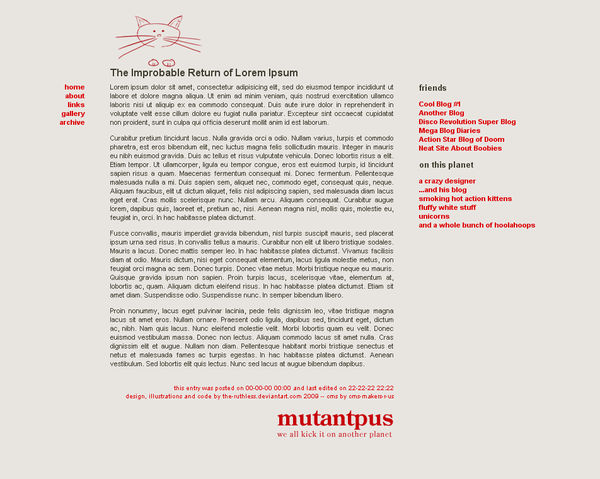 Watch
'Tis a webdesign for my sister. She wants a blog.
...so, basicly super-really rather neat and nice and clean. All XHTML+CSS, however retro that may be.
Oh, and that cat creature thingie is just until someone (me?) comes up with a decent logo kind of deal.


Hmm, "not finished yet" is what I can make of it. The text seems to float around too much. Maybe some lines or – god forbid – boxes somewhere might do the trick?
And how abut making the width of the text column a bit narrower? You know, readability and such concerning large amounts of text..
I think the colors may need some fine tuning. Bright red on a pink background seems.. I don't know.. a little "meh."
As far as a logo/whatever goes, there's nothing in the way of making a proper mutant kitty, "Mr. I've studied illustration and shit"

Reply

Lines have been thought of, yes. I may mess around with them later, when I try adding a few more "rants" to this blog design. The text column... could possibly be narrower. IMO the readability full-size is all good, because the font is so big. It's the age-old debate about column width vs. scrolling like a crazy motherfucker.
I think your OS X color profiles may be crap, as the background is GRAY, not pink.

...if you happen to be on MSN any day soon, I could hand you the full color palette for this project. POTENTIAL!

Remember: I sucked at illustration. Outcome of going there: I became an even more minimalistic typographer kind of person.

Reply

Mhm.
Hmm, it still has a slight pink hue to it, even after I download the picture. but whatever.
Nonononono, isn't that like admitting defeat?
Duuude, come on! The only way to learn is by doing!

I sucked at everything once. Everyone did.

Reply

...mmmyes. I still think you should get your monitor calibrated. It is technically more red than any other color, but it should eventually look more orange than pink IF you could see the tone.

Defeat? I still got five years on my hands before my skills must be AWESOME.
Reply

The cat thing sucks ass-balls. the rest is good.
Reply

It is indeed the cat of the sucking of the balls.
Reply

of the ass-balls.

shall I have a go?
Reply

Hehehe, god DAMN you're constructive, dude.

Reply

interesting minimal design. i think this will be super effective with a little more refining. same goes for the logo; the whimsical look works but just needs a bit of refinement.
Reply

Mmmyes. I figured the code bit was ready for "beta" stage now, but refining is a must. I've kept all options open, and I got a really neat matching color palette for this site, so... Graphics may be added. You got any tips?
Reply

maybe adding texture graphic to the header background, so the cat drawing looks like it's on paper

good luck!
Reply