STATUS
Commissions are currently closed.
I am not accepting any more requests to be added to the waiting list.
Next commission opening: Summer 2021

Thank you for your interest



By commissioning me you are agreeing to my rules - make sure you read through this journal properly!

I reserve the rights to all artwork made by me, to upload and distribute with credit to the client where it is due.
As a client you may not claim the artwork as your own, remove my signature or reupload my work for profit.

Beneath you can find:


Prices and examples
YCH auctions
What I can do
What I won't do
What do I need from you?
Payment and refunds
The waiting list and how to commission me


PRICES AND EXAMPLES

Character portraits

Half body portrait of one character. No custom backgrounds!


For NSFW topics see Full illustrations. (No pinups, lingerie in portraits)

100 $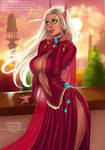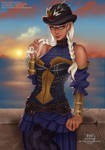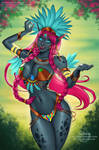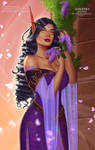 Extra character details: 10$ and up
Full illustrations

150-200$
Illustration done in lineart style, including one character and

a background simple to moderate in levels of detail.
Price varies depending on complexity, starting at 150 $.
Examples are listed from top to bottom after price.

Additional characters can be added for 100 $ each.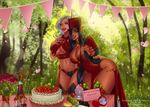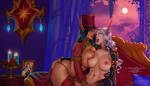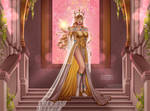 YCH Auctions
YCH (Your Character Here) auctions are hosted on my Patreon. All patrons are welcome to bid on the auction.

The size/composition of the auction can vary from month to month; between singles and couples, half bodies and fullbodies.

The basic rules such as gender/species restrictions, starting bid and minimum bid increment and such are stated on the preview itself, but please note that my usual commission rules always apply (for instance, I will only take upfront payment). Your Patreon pledge do not count as a discount towards your winning bid.

It's treated exactly as a normal commission with the exception that the pose is already decided and it surpasses the waiting list. Keep in mind I still have projects with deadlines to finish though

If you are interested in bidding, please read my commission rules before placing a bid.
Standard starting bid: Varies, from 150$
Minimum bid increment: 5$
Standard autobuy: Varies
What I can do:
Most things that are not listed beneath 'Won't do'! My main subject and interest is humanoid characters from fantasy settings, and I also love drawing OCs, couples, pinups, elves and romance

If you are interested in commissioning me to use the art for commersial purposes, such as book covers, CD covers, promotional art for games/stories/etc, please note that I charge extra to sign over the rights of the artwork to you. You can't claim that you are the creator of the artwork, and I retain the right to upload the artwork (with proper credit to you) to my various platforms. Please contact me privately if you are interested in commissioning me for commersial purposes.

What I won't do:

Mecha/robots/most sci-fi content

Some NSFW content. (Full list of Won't do's
HERE
)

Ponies, furries and anthros (features like ears and tail is okay).

Real life people

Styles different than my own (for instance anime, comic book style, etc)
Please don't ask me to copy another piece of art but with your character in it instead, or to redo a commission you bought from someone else.
Please note:


Elaborate character designs (many/large tattoos or scars, detailed/complex outfits) come with an additional fee starting at 10$.

In-game armor sets are subject to close interpertation. I don't do detailed/complex in-game outfits.

My Patreon work with deadlines take priority over commissioned work.

I reserve the right to upload an alternative version of a commission without things like tattoos/large scars/fetish elements, that better suits my portfolio.
What do I need from you?
Title your note or email 'Commission'.
Please note that I will not work from merely a written description!

Google images/screenshots are fine, it doesn't have to be art of your character. In the case of multiple characters, a brief description of their relationship is required.


My commission form can be found HERE! Please note that I don't accept incomplete commission forms. This is the minimum info I need to be able to draw for you!

It's up to you to provide correct information about your character - avoid sending me references for instance of different hair colors and not specifying which one is correct, or which outfit is desired. I don't want to have to send you 3 emails to figure out exactly what you want because you weren't clear about it.

Payment and refunds
Payment is done through PayPal. After we have reached an agreement, I will send an invoice for full payment. When the transaction is complete, I will begin to work.
You will receive two WIPs to approve of. The first is a clean, uncolored sketch, and after you have approved of if you'll receive another WIP with flat colors. If you wish to change something, you must do it before you approve of each WIP - after your approval, I will no longer make changes to the previous step. Max 2 revisions during the sketching phase - please either be specific or give artistic freedom.
After you've approved of the second WIP I will continue with shading, and then you'll receive the finished picture!
Please keep in mind that I rely on consistent communication while I'm working on your commission. It is up to you to reply in a timely fashion when I send you WIPs. If you know that you will be absent or unable to reply, let me know in advance. If I don't hear back from you within a few days to confirm a WIP, I will begin to work on something else. If the delay in response is far too long, I reserve the right to cancel your commission.
I don't do refunds unless I'm unable to finish your commission, so make sure I am the artist you're looking for before commissioning me. If I have to cancel your commission, you will be refunded for the amount of work not completed.
The Waiting list and how to commission me

I open up for commissions 2-3 times a year, staying open for a few days before I close again and pick the slots. Depending on the kind of requests I receive, the number of slots can vary.
If you're in a different timezone - don't worry, I don't pick slots on a first come, first served basis so as long as your email/note reaches me before I close, it will be considered! I always announce when I open up well in advance on all my platforms - you can't miss it if you keep an eye out

I'm not open for commissions outside of these time periods.
You can read about the details of how I pick the slots
HERE.
My freelance work goes by a waiting list. The slots are arranged randomly upon accepting commissions. You are welcome to ask me for an update on how the queue is moving along, but for simplicity's sake I keep my queue public on the front page of my DeviantArt profile beneath the commission sheet. If your slot is coming up and you'd like specific details, send me a private message!
I will contact you 2 days before the slot officially opens up so we can discuss the details and send payment. Should I receive no answer from you within a few days, you will be removed from the waiting list.
If you are unable for any reason to claim the slot, please let me know and we can work something out. You cannot hold onto a slot when it's your turn without proceeding - I rely on a steady pace to work and can't make any exceptions for this rule. I'm sorry about the inconvinience!
I reserve the right to remove a client from the waiting list should they behave inappropriately towards me or in the comment section of my submissions.
Still have questions?
Contact me and I will gladly answer them!