This is going to be a short one.
I didn't have the usual con excitement prior to this con. It started somewhat badly.
One of my roommates
weirdtakoyaki
couldn't make it because she was sick

Hope you're feeling better.
I was sick too, which wasn't fun at all.
I didn't get Mercedes done in time and I didn't want a last minute rush so I backed away before I would regret it.
Friday
Drove down with

and made it there mid-day. Boston is a lovely city.
Leonard P. Zakim Bunker Hill Bridge
We got our passes then went to the mall that was attached to both our hotel and the convention centre. It was a lovely mall with some expensive stores. We went back to the hotel room when our other roommates arrived (Still need to find their DA names to link them). I got dress in Captain Yoruichi,
Thornrose
in Lelouch. I learned the layout of the con and visited the dealer's room and artist alley.
I met

a fellow deviant and cosplayer. She is the Zelda on the left. It was nice meeting you!
:thumb206287484:
Saturday
I dressed up as Beast from Black Butler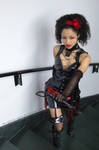 Spent most of the day hanging out. It was pouring rain for most of the day. I bought a few prints from
ProdigyBombay
and
Virus-AC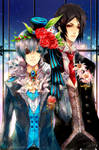 I spent the evening with acksonl helping carry equipment for his video. Check the video out here.
www.youtube.com/watch?v=N0ZiWE…
Thornrose
and I have a cameo in the background. See if you can spot us.
The Sailor Moon was one of my roommates. She was very nice and I hope we can hang out again.
We met a nice Viletta too...
Sunday
On Sunday I wore Merle. It was sunny and a very easy going day. It was mostly spent saying goodbye to all the people we knew. Got some ice cream and some cheescake. Yum! The food was great!
I finally got to meet Danielle a fellow Granado Espada cosplayer. I was supposed to go to Katsucon in February but had to back out. She is so sweet.
Overall: Nice con, great location, great food, and lovely people.
I didn't get to hear that many people with a Boston accent. What's up with that?