My friend

gave me an idea to start a new Art Jam: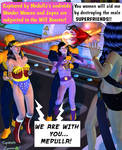 It also gave me an idea to host an Art Jam, and I call it The Mind Maidens Art Jam and it begins now.

Now for those who don't know the plot The Mind Maidens was an episode on Superfriends where a villainess named Medulla used a mind control device called a Will Booster to control rthe minds of all women. Once infected, the woman had glowing white eyes and had the power to dematerialized the men to send them to Medulla's lair, where she would store the men on computer tape until the women had control of the world with Medulla as the ruler. (Talk about a harsh Women-Lib.... LOL)

Anyway, in the episode Medulla turned Wonder Woman & Jayna into her zombie slaves to get the male heroes.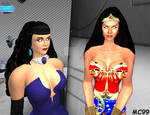 However, here is the challenge and rules of this art jam.

The idea is to show other women besides Wonder Woman who got possessed by Medulla's mind control. You must create a render of a woman or women under mind control with white eyes, pledging their allegiance to Medulla.

Here is an example:

:thumb297938983:

Any form of visual art is welcomed and you can do other superheroines, female celebrities, or even normal women. The point is to use someone other then Wonder Woman. Female OC characters are also welcomed. And because its an Art Jam you can make as many renders as you wish. This is not for prizes, just for fun. When you make something for the Jam, post it in a reply in this topic, and I will take it, and repost it in a Gallery Folder giving the artist full credit for their work in here: mindcontroller99.deviantart.co…

As I said The Art Jam starts now, and will end on May 31.

Any Questions?


P.S.
I also made a new group called

. Please feel free to join the group.

REMINDER: Tomorrow is the last day of the Art Jam! Thank you to all who contributed!


Well I think your little idea was a great hit, seems that there was plenty of people that participated, & there were some good creations, thanks for allowing us to be creative on this subject