Hey! I see that you own this lynx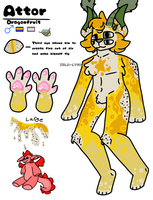 Do you still own the lynx?
(If you do not own it anymore, please send me the @ of the new owner. )
If you do, I was wondering if you're interested in the SmoothEE Lynx Discord server! It's a super welcoming community and the species holds many events, contests and just fun collabs!! <3 I will note you the invite if you are interested.
You can also check out the Deviant Art group!
www.deviantart.com/thesmoothee…
We also need your OC's ref so we can enter it into the master's list! <3
Thank you!
From, ChatFraise (Founder of the Species)