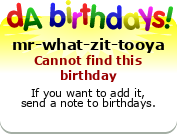 IF MOSTLY OF MY ART HAVE COMMENT BOX CLOSED, IS BECAUSE I HAD EXPERIENCE WITH COMMENTS, AND EVEN GETTING RUDE PEOPLE, THIS IS WHY I DECIDED TO BE CLOSED COMMENT PERSON.
BUT I READ EVERY NOTE THAT I GOT AND READ EVERY COMMENT ON MY PAGE MAIN BOX.



_____________________________________
(And Sometimes i feel like i want to try to be with any kind of man) (IM GAY!!)
________________________________________
ADVISE OF THIS GUY, ALWAYS WARNED
I Always Get Informed By Trolls By This
-Replying Anyone On The Comment Box Of An User
-Fake Accounts (Just Maded Days Early)
-No Content On His Gallery
Also Anything you see here is ficcion, humor, drama and parody, Some characters are created by me, and other alterne versions of canon maded for my universe without problems of copyright isses.
Dont be blind
+100,000 Of Views (Not Really)
THANK YO!!
BYE!!
Favourite Visual Artist
Many Things
Favourite Movies
Many Disney, Horror And Sci-Fic. Movies
Favourite TV Shows
I Have A Lot
Favourite Bands / Musical Artists
Ed Sheeran, SIA, Squid Sisters, Etc
Favourite Books
The Steadfast Tin Soldier, Watership Down, The Little Prince and Luna De Pluton
Favourite Writers
Stephen King, Hans Christian Andersen, Etc
Favourite Games
Splatoon, Fire Emblem, Sonic, And MORE
Favourite Gaming Platform
Wii U, 3Ds, XBOX One, Steam, PS4 and Switch
Tools of the Trade
Photoshop.
Other Interests
MY CONQUEST ON MANY UNIVERSES