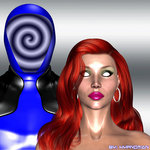 Hello everyone. Since I was a child I loved the scenes in movies, television shows or cartoons where the beautiful heroine or any beautiful woman was hypnotized by the villain and became his slave. I draw a little but what I really like to do is create images with 3D models.
I like to create original characters or scenes with super heroines that all we know in situations where they are hypnotized or mind controlled. I also enjoy doing scenes where hypnosis is not present but only a beautiful girl in a particular situation.
My only intention is to share my hobby and entertain those who like me are fans of female hypnosis we see in movies and cartoons.
Your comments and respectfully criticisms are welcome.

Hola a todos. Desde que era un niño me encantaban las escenas en las películas, en las series de televisión o en los dibujos animados donde la hermosa heroína o cualquier bella mujer era hipnotizada por el villano y se convertía en su esclava. Yo dibujo un poco pero lo que realmente me gusta hacer es crear imágenes con modelos en 3D.
Me gusta crear escenas con personajes originales o con las súper heroínas que todos conocemos en situaciones donde ellas están hipnotizadas o bajo control mental. También disfruto haciendo escenas donde no está presente la hipnosis sino solo una bella chica en alguna situación en particular.
Mis únicas intenciones son compartir mi hobby y entretener a quienes al igual que yo son fanáticos de la hipnosis femenina que muestran las películas y los dibujos animados.
Sus comentarios y las críticas hechas con respeto serán bien recibidos.