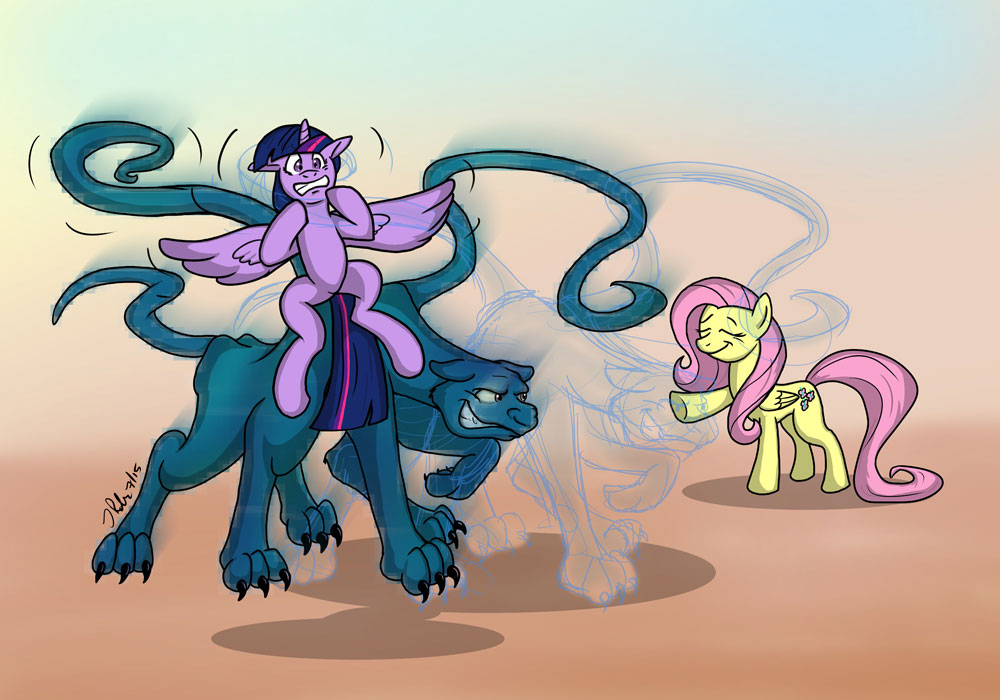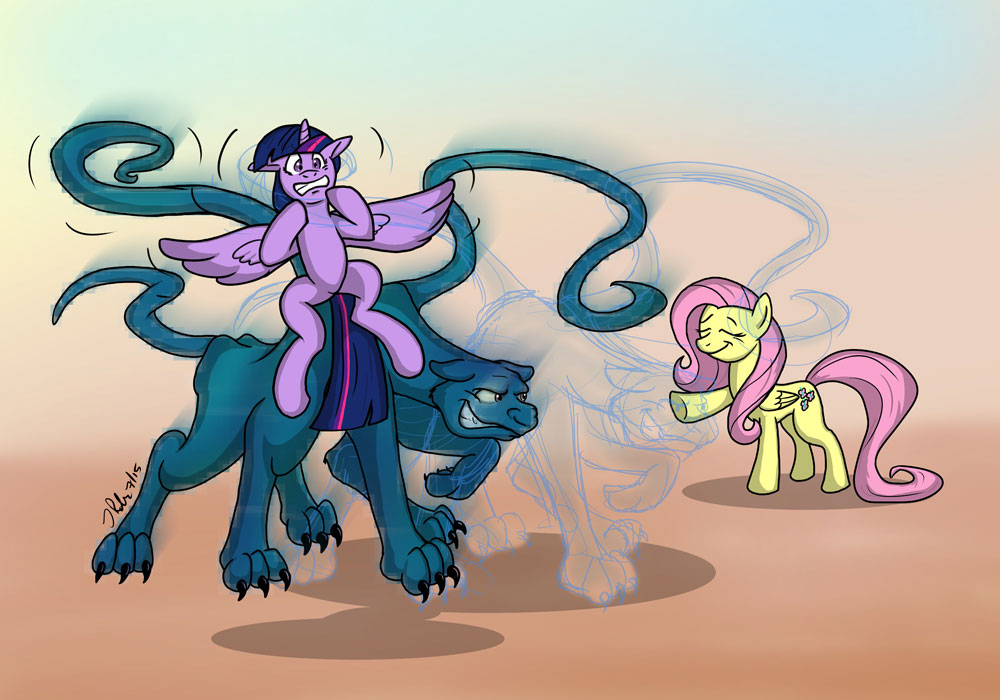 Watch
Commission for Miertam, possibly the start of a new series, of Twilight learning all about monsters... the hard way. This episode's entry is that adorable little six-legged tentacular light-warping critter, the displacer beast. Fluttershy, of course, thinks it's adorable... and clearly Twilight is speechless with admiration!
Such a weird-honkin' monster and one of my favorites, even if I rarely actually use them.

Inspired originally by "Voyage of the Space Beagle" by A. E. van Vogt if my memory serves correctly, modified slightly and now immortalized by Dungeons and Dragons. Aside from its devious nature, the displacer beast has a permanent illusion of being some distance from its actual body. I never really thought that would actually be that confusing until I started drawing this, but now I can totally see it.
On an artistic note, for this pic I decided to do a piece that used the pony character models but drawn in my own style rather than trying to simply mimic the MLPFIM style. Whattya think?

What about a Bronze Dragon?
Reply

Can I use this as a fan fiction cover? I'll give credit and a link back to you on deviantart.
Reply

Sure

Reply

Wait. Who is
Miertam? Do I have their
permission? Since they were the commissioner?
Reply

Oh I love this. One of my regrets for the Pathfinder system is that they can't use some of the classic AD&D monsters like the Displacer Beast. And yeah, it originally came from Van Vogt's story "Black Destroyer" (which was part of 'Space Beagle').

Hopefully we'll see such cuddly critters as the Umber Hulk, Shambling Mound, and Beholder in the future.
Reply

Your style is tons better than the FIM style. Much cleaner and cute to boot.
Reply

Glad you like it!

The FIM style has a lot going for it, particularly in the context of producing an animated show on time and in budget!

And I've learned a lot from it. But I don't want to be shackled by it, either.
Reply

To me, the FIM style seems to slap and dash. It's a trade off for the more in depth characters which the original shows didn't have though they have beautiful artistry in them. Don't get me wrong, the shows have a lot to teach everyone at any age. I'm just not a fan of the art. Your art I'd love to see in the show. From simple to complex, you are amazing.
Reply

Fluttershy looks so happy and adorable. "Aww, who's a good widdle multi-limbed monster...you are, yes you are..."
Reply