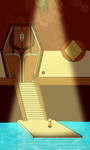 After a long search along with the other gems, you finally find out about Sentinel Descloizite's location!
She seems to have fallen down a cenote, a sinkhole that was still being adapted into a proper building. Being so, the regular way out doesn't seem to be a viable option for now, and it is your mission to find a way down to get her out of there, while she firmly holds onto a small, shiny object on her hand...
















This is an Art/Written Event! This means you have to draw or write what happens during this event. You can draw just a scene, a whole comic about it... the ideas are yours to choose from! Does your gem require other gems' help to get down there? Do they rather decide to burst the door open to get her out? Maybe your gem has something useful to climb down there!

You can get an idea on how the cenote looks
here
, but the full appearance of the area is yours to decide!

Your gem can either request other gems' help or do this mission on their own!