Dec. 20th Update:
I apologize for the delay in the results. The judges and I have been hit with finals and the holiday season to explain the delay. Hoping to have critiques up soonish but updating to show I have not forgotten.
Dec. 2nd Update:
Round 3.5 has come to a close.  Please wait while the judges and I write up the critiques and results.
Thank you everyone for your patience while we tried to figure out what to do next.  Due to a double-forfeit for one match-up in Round 3, the format has been changed slightly so the Drop does not suddenly end.  Instead, Round 3.5 will come into play.

What does this mean?  Mieruru and Daco will not continue while LCom and Ombre continue to the finals.  Round 3 will not yet be judged.  Instead, it will be judged together with Round 3.5.  Please cheer on our finalists as they continue to fight onward.









The cavernous depths continue to shake, causing the walls around you to crumble.  The creatures that dwell sense the danger and your doom.  The time is now.  The gem is ready to depart and hide away.  Will you claim your prize before it disappears or will you be left in the darkness?









WELCOME TO ROUND 3.5 OF THE DROP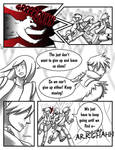 &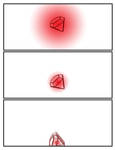 The deadline is
SUNDAY DECEMBER 2ND, 2012 at 11:59 PM HST
Notes:

The purpose of this round is to give our contestants time to bring their stories to a close.

Contestants are not required to re-fight each other in this round but may do so if needed.

A short extension is available if either contestant wishes to use it.
 This has been used.