Sept. 28th
: I apologize for the delay in the results for Round 2. Results should finally be up this weekend.
Sept. 24th: There is a slight delay with the results.  Please be patient.
Sept. 17th: The deadline has now passed and Round 2 is now closed.  Results should be up within a week.









The ruckus from above have caused the creatures down below to stir.  Each step deeper will lead you to greater danger.  Will the flicker of light you see ahead lead to the prize you seek, the path for your escape, or show the teeth that'll lead to your demise?









WELCOME TO ROUND 2 OF THE DROP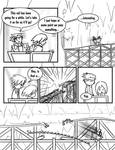 The deadline is
SUNDAY SEPTEMBER 16th, 2012 at 11:59 PM HST.
Important notes

One 1 week extension is now available.  Please note that I will ask that you request an extension at least 3 days before the deadline.  If you think you need it, ask for it.  There's no harm is asking.
This has now been used.

Please do not submit part of your entry days after deadline.  The "grace period" when entries may trickle in is the time between when the entries are due and when I post the journal announcing that the round is closed.