This journal is to give you a general idea of what you should keep in mind and what kinds of prices you can expect when you commission me for artwork. If you're interested, don't hesitate to contact me and inquire for whatever you may have in mind!
I can communicate via DA's private messaging, but you'll likely reach me more quickly via the email address chronothaur@outlook.com.

Commissions are closed at the moment. When they open again, there will likely be some updates to the pricing.

Pricing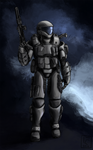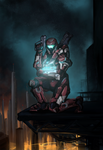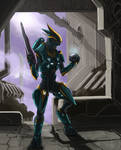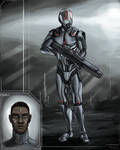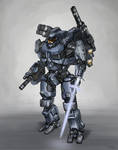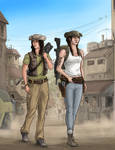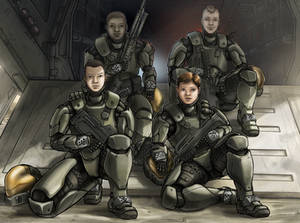 Basic illustration
:
~60-70 $ / ~50-60 € per character (+background ~10-50 $ / ~12-60 €, depending on the complexity/desired level of detail; simple abstract/painterly backgrounds don't cost extra)


The default pricing is for characters since that's what most of my commissions consist of, but the same prices apply to any comparable main image subject/design (vehicle, ship, structure, piece of equipment, etc.). In applicable cases (reference sheets, etc.), alternate views of the same character count as additional "characters". The exact price of the illustration is determined by the complexity of the subject matter -- a character standing in plain casual clothing is going to be cheaper than an action shot of a fully armored character.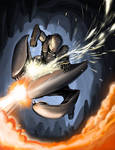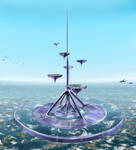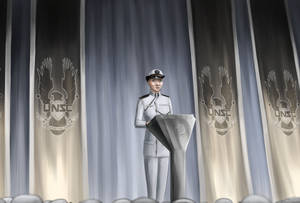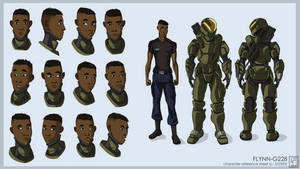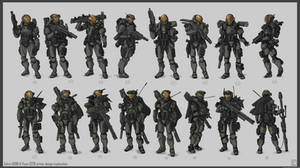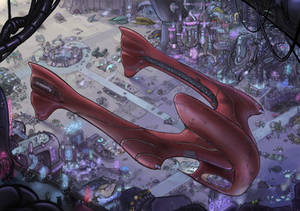 Misc. illustrations:
Aside from the usual format, with one or more characters shown in full, I can also do various scene illustrations and paintings, so don't hesitate to ask for whatever you have in mind! The price will be decided on a case-by-case basis, but for the most part the fees listed above apply in regards to characters and backgrounds. If you want something different from my usual style and technique (e.g. a more painterly style as seen
here
) just ask.
___________________
Payment
Payment should be in actual money via PayPal, where my address is chronothaur@outlook.com.

On PayPal and transaction fees: I request that you use the "Send money to family and friends" option over the "Payment for goods and services". While commissions technically fall in the latter category, PayPal takes a fee on my end in "goods and services" transactions. If you use the "Payment for goods and services" option, the payment must include the fee in addition to the commission's price so that I receive the agreed-upon sum.
While I list my prices in USD I will also accept the corresponding sum in Euros if that's more convenient to you (I'm in the Eurozone myself and will have to convert the currencies anyway).
FAQ

Do you draw franchises other than Halo?
I do! It's just that I've carved myself something of a niche in Halo fan art and it just happens to be what I draw most of the time. Definitely feel free to ask about anything else, though.
My commission idea doesn't fit with the templates described above. Can you still do it?
I most likely can; the templates are just there for general reference. Don't hesitate to ask me about something different, like character busts, portraits, landscapes, reference/bio sheets, design iteration/brainstorming work, and so on.

Is there anything you won't do?
As a general rule, nothing explicit or too weird. If you take a look through my gallery you'll probably be able to tell where my comfort zone lies, but feel free to inquire about stuff outside that. In general, sci-fi/military related subjects are what I'm most accustomed to drawing. Porn and fetish content are off limits, but I'm not ruling out tasteful nudity (e.g. for reference purposes, or otherwise not blatantly lewd).
I may reject a commission request if I'm uncomfortable with the subject matter or consider myself unqualified or unsuited for tackling it. It should also be noted I have never rejected a commission before, so this is more of a technicality than anything.

How much description do you need for a commission?

It's up to you. The commission requests I've done range from just a basic couple of sentences to a series of elaborate descriptions and references, though having clear references from the get-go makes my job easier. If you have a strong vision of what the end result should be like, you should be specific enough with the description and reference material for me to discern what you're looking for as I will fill in any blanks according to my imagination. This is rarely a problem as I'll usually drop you a question about anything I'm unclear on, but it's always better to get a good idea of what I'm supposed to be drawing from the get-go over having to do multiple revisions over time.
I have this cool idea of a character/weapon/piece of gear in mind that has yet to take visual form. Can you design it for me?

I absolutely can! Original designs don't cost extra, so feel free to throw out ideas. I've done a few commissions where myself and the commissioner have bounced ideas back and forth, and so far the results have been fruitful.


How long does it take for you to finish my commission?
I cannot conclusively tell, as this is dependent on the real-life situation I'm in at the time as commission work is (as of yet) not my day job; it may be anything from a day or two to several weeks or even months. I'll usually be able to give a rough estimate of how long it'll take, though.


Do you accept DA points?

Nope. I have little to no use for them and if I really wanted DA perks I could use actual money to purchase them.
Can I post my commission on my page/website/etc?
Feel free, just remember to give me credit and provide links to my DeviantArt page (
the-chronothaur.deviantart.com…
) and to the original submission of that piece. However, you may
not
post any process sketches I may share with you privately without my permission.
Note:
I won't usually make any radical changes to commissions after posting, but I may for example correct some details that I find are off. I will notify you if I make any major changes after posting.
Do I have to pay upfront or after the commission is done?
My standard MO is upfront payment after I send you the first process sketch, but the specifics depend on the price and magnitude of the commission.
I don't like how the commission turned out. I want my money back!
So far, this has never been a problem, but I'll outline a policy of sorts just in case.
I will render each commission to the best of my ability within the limits of the chosen technique, and I expect to be paid for my work even if you don't find the end result satisfactory. Before commissioning me, take a look through my gallery (at least my more recent works) and decide for yourself if you think my style and approach would be good fit for the kind of artwork you'd like. I also expect to be paid for any work I've already done. If you decide to cancel your commission for whatever reason and I've already sank multiple hours into it, you'll still have to pay for the work I've put into it. I would prefer people be serious with their commissions, however, which is why I prefer upfront payment.
That said, I also don't want to be a jerk for no reason, so I can make minor changes to the piece after it's done if there's something particular that's not to your liking. No major/time-consuming alterations, though. To avoid problems with this, I will always send one or more preliminary sketches of the piece to you to ensure we're on the same page before I go ahead with the details.

After looking through your Halo stuff I'm gonna have to sit down and think of a way to describe my characters lol, I would love to commission you once I have them fleshed out slightly more. At the moment I've only ever had the bare bones "ODST from an arctic climate, Spartan who was stuck in cryo after an accident in training and a modern Spartan who joined the new program from the Marines." not a ton of detail in who they are really lol.