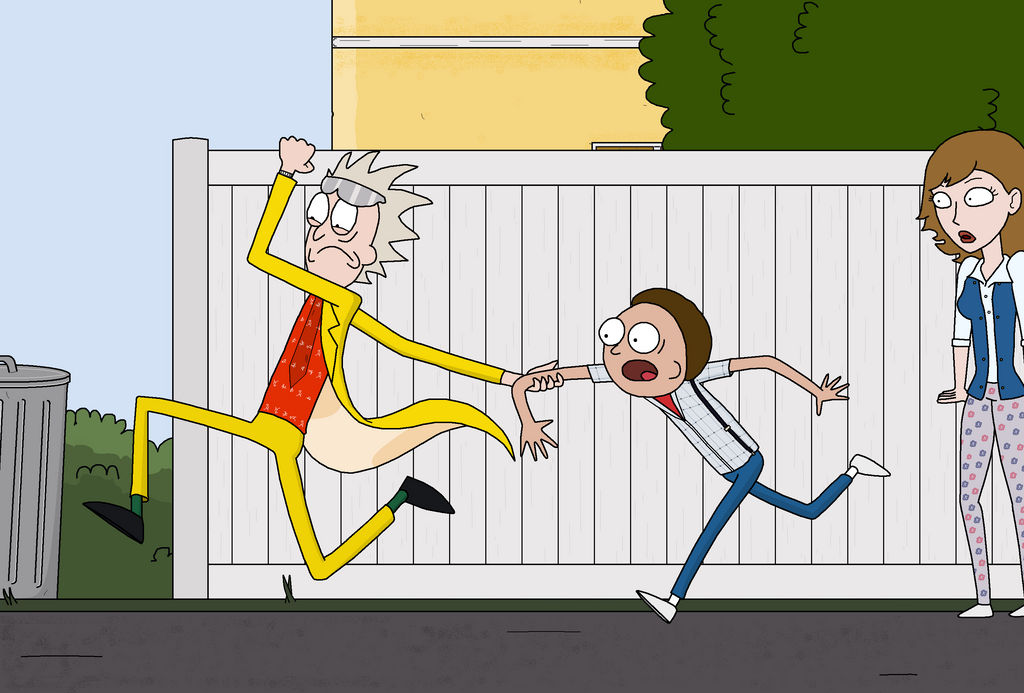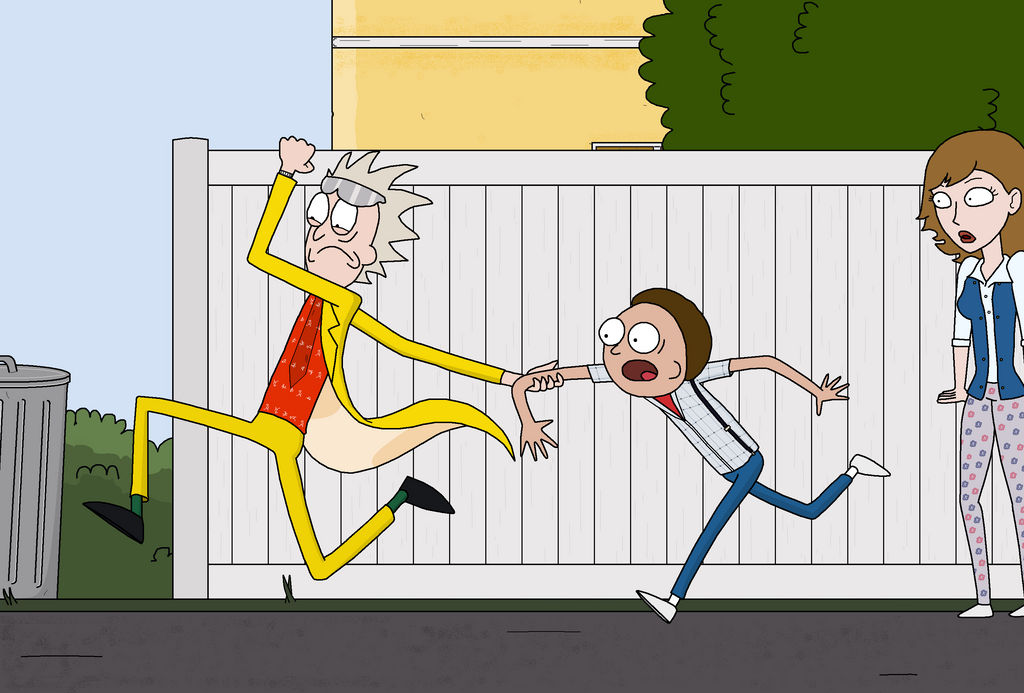 Watch
I'm sure you all know the scene this represents, so I guess there's no need to explain the context. I'll leave a link below, just in case. What can I say? It's Back to the Future in the Rick and Morty art style!
Doc, Marty and Jennifer are about to go to the distant future year of 2015, where roads apparently aren't needed.
www.youtube.com/watch?v=VO4ebm…

"Mahrty! My balls! You gotta..."
Reply

Dimension where it's the Back to the Future™ Dimension but every character is a Rick and Morty character.
Reply

Well, except there's a trashy flying saucer instead of a cool '80s sports car.

...It's funny because, in the end, Jerry is ultimately his own Biff. You don't even need a traditional antagonist to drive the plot.
Reply

XD I also forgot to add that everything looks like the Rick and Morty reality aka the animation style. Did you ever watch the "Road to the Multiverse" Family Guy epsiode? I liked the concept of other dimensions with different animation styles (They even went to a "realistic live action" one, they did not like it.). And there is a Morty in the "Creepy Morty" that has a different animation style from everyone else. Looks like a "south park" Morty.
Reply

I have, and it makes for some good comedy. I think the best gag was Disney Family Guy.

The whole idea of a multiverse has fascinated me since I read "Crisis on Infinite Earths" as a kid. It's a great plot device, but also an unfortunate victim of overuse these days.
Reply

Yes! This is awesome!!! I seriously hope season 3 somehow has them cross paths with Doc and Marty XD
Reply

YES!!!!!!!
This is perfect!!

Reply

I was pretty proud of it at the time. Thanks a lot!
Reply

No problem!

It's funny how people 'cross over' Rick and Morty with Back To The Future, because they were based off Doc and Marty, so, actually, both characters really do look awesome in Doc and Marty's clothes

Then again, most people properly crossover Rick and Morty with Gravity Falls, which apparently is referenced in the episode, 'Close Rick Counters of the Rick Kind'

I've got some Rick and Morty Fanart where I've combined a myself and Rick together as well as (still) writing a Rick and Morty fan fiction called 'Rick and Fivey' including Morty as well

I will eventually do some proper crossovers in my Rick and Morty Fanart soon, I'm just trying to think of a fandom that will go well with Rick and Morty as well the ones that people have already done
Reply

Well, you're forgetting the middleman. Rick and Morty were adapted from parodies of Doc and Marty, 'Doc and Mharti'. Amazing how what amounted to a vulgar temper tantrum against Universal Studios grew to become such an incredible series. Personally, I see it as Back to the Future: the Animated Series with some twists. I keep some pretty meticulous records of the similarities.
You're a Rick? Funny, I've always seen myself as Morty. The similarities are pretty uncanny. I dress like both Morty and Marty pretty regularly- and I must say, the denim jacket and red puffer jacket combo look pretty cool. Bonus points for wearing the aviator shades.

I've got some crossover art coming up, so stay tuned!
Jessica is the greatest waifu
Reply

Haha, yeah! Funny thing is, I have a Rick Cosplay (minus the wig, and believe me, the wig is the best wig for a Rick Cosplay, you can find it in my gallery, you can't miss it) and I also have a Marty McFly Cosplay too (I mean like the whole outfit, plus a Hoverboard I hand made myself, which is also in my gallery)
My main Cosplay is the 5th Doctor from the classic Doctor Who (hence my username and profile pic

) and everyone loves it, I would definitely say that I'm a 5th Doctor look alike since my every day hair is styled the same way

Reply

That outfit must have been difficult to assemble! Any of the Doctors are pricey to put together, but Five would be the hardest (short of Six). I don't know about you, but 'Cricket uniforms' are a little hard to come by across the pond.
Reply

Actually, the hardest part was finding the Panama hat, which I managed to get from an Antique shop, as for the the cricket stuff I bought the Official 5th Doctor's Cricket Jumper from the Doctor Who Experience here in the UK, Wales, Cardiff, the stripy trousers and shoes/trainers I got from eBay and I got a plain white long sleeve shirt and enbroyded the ? marks on the collars

You can see all my 5th Doctor Cosplay photos in my gallery
Reply

you.. you y.. you're gonna come b..BURP..ack with me mmmMorty, your your kids are in d..danger Morty, we gotta go to the ffff..future Morty!
Reply

Aw jeez Rick, I-I-I just got here, y'know? Jessica's here, R-Rick, w-w-we were gonna go drive around, a-and make out, a-a-and probably get married! Y-you're screwin' up my future, Rick! You're screwing it up!
Reply