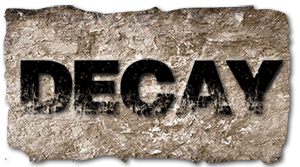 Congratulations, Marco!
Our panel determined that this photo best represented the most true and natural form of "decay". Below is the combined response from the judges:
This photograph strongly brought out the "beauty of decay". The nature around the house is strong, full of light and life, but takes your eye into the abandoned place. The light and foliage simply draw you in, and the image seems to come to life. You don't immediately realize at the center of the image is this decaying building, but once you do, you feel it is counterbalanced by the nicely illuminated foliage, which stands for life. The photo displays decay as having a positive outlook, rather than just bleak death. It hints that life still flourishes among death. In a sense, this image is trying to tell you a story of its history- a picture of something which is decaying, yet makes you consider whom/what/when once inhabited this place. It makes you think of the life that once existed there. This picture tells a story.

The finer details are what makes the picture. As pointed out, the illuminated trees stand for life, the way they are exposed accenting the building, yet falling off near the frame, leaving the building as "in the spotlight" on stage. The generic-ness of the greenery makes the building that much more impressive. The vignette helps to create a cyclone effect from the borders, towards the building. The sky, being wholly overexposed, may represent pure life, new life, afterlife, in a sense, especially given the proximity to the building. Notice the shadows of the windows and ground-level, the strong darkness representing just the opposite of the sky- a feeling of non-existence. These deep shadows add a bit of a fear factor, making the building appear both menacing and magical; a really nice touch. The contrasts and gradients of the trees is reminiscent of a story or fairytale landscape, bringing the entire package together.

In the end, the focus and attention to detail are very well done, and help deliver the theme in a cutting-edge way. Great shot with great ambience.
Thanks again to those who took part!