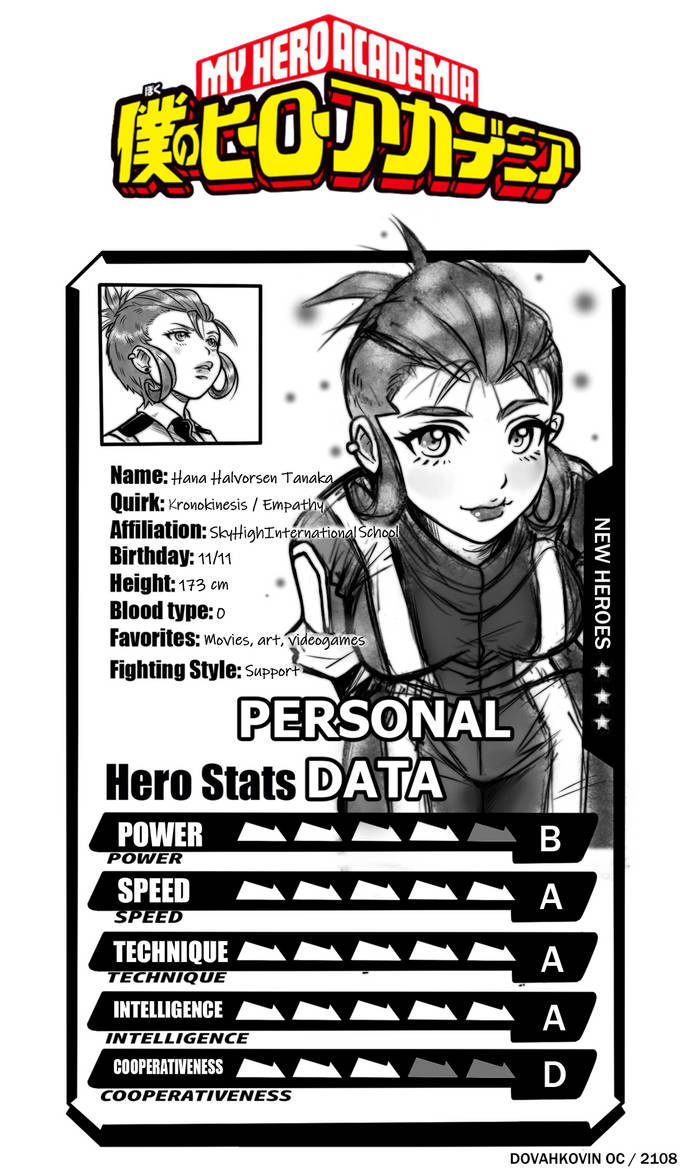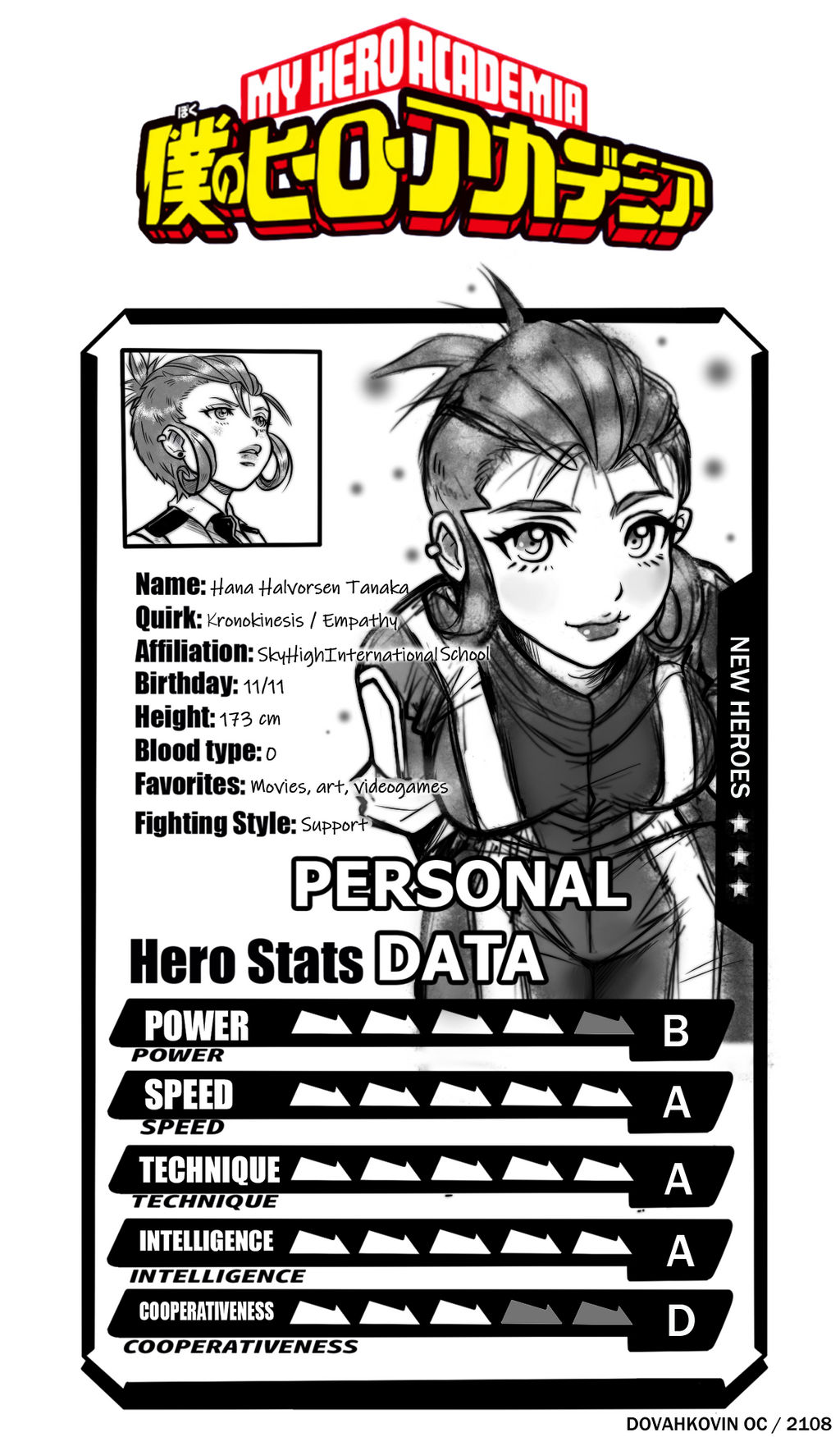 Watch
Full name:
Hanna Halvorsen Tanaka
Alias:
Hann or Hanna
Hero name:
Crushed Time
Age:
16
Date of Birth:
November 11th
Gender:
Female
Birthplace:
Oslo
Nationality:
Norwegian/Japanese
Blood type:
0
STATUS
Status:
Alive
Occupation:
Student
Affiliation:
U.A. exchange student from Skyhigh International School
Occupation:
Student
Department:
Heroics
Grade/class:
2-A
Family:

- Kristoffer
Halvorsen (Hero missing)
- Ayame
Tanaka (Villain missing)
APPEREANCE
Hair color:
light brown
Eye color:
blue
Height:
173 cm
Weight:
62 kg
QUIRKS
Quirk:
kronokinesis (father´s power) / empathy (mother´s power)
Stats
Power:
4/5
Speed:
5
/5
Technique:
5/5
Intelligence:
5/5
Cooperativeness:
3/5
PERSONALITY
Smart
| Creative |
Brave
| Stubborn |
Lonely
| Introvert |
Sarcastic
|
Vengeful
LIKES AND DISLIKES
Likes:
Bakugo,
Aizawa sensei ( Admire him so much as a Hero)
art, comics, music, movies, videogames, sculp chibi figures
Dislikes:
Feel scared by herself, be surrounded by a lot of people, silence
ADVANTAGES OF HER QUIRKS
She accelerates the speed of the movement or make it slow of the things she can touch and see. Sometimes stops completely all things in a ratio of 4 metres of space.
She is resistent and can be strong and faster but she likes to be support hero instread a combat hero.
Empathy lets her know if someone is lying her or what the other people really feel. She can share emotions with other person and changed it by her owns.
DISADVANTAGES OF HER QUIRKS
Empathy power affect
everyone without exclusion:
Villains, allies and civilians.
When she´s overwhelmed with emotions she probably will can hurt all of them at same time.

Dude sick. I have a very similar OC! Also from Norway, actually (as I am myself from Norway). Really cool!
Reply

I love your country that´s why I usually have characters from Oslo! hehe I feel bad for the similarities with your oc. Give me some time to try to add other conditions of her quirk to make it a variant from other quirks. I understand when happens things like this and you can feel free to tell me things about your oc to make differences with the quirk of my oc. Im happy to read that you like it and thank you so much for your kind words, your watch and fav!
Reply

It's a pretty okay place, tbh. Hey, don't feel bad! Stuff like this happen. I noticed that our birthdays for our OCs are very similar! My 8th of November to your 11th of November! I really love this coincidence! Don't change your OC because of this, please. Why not become friends! We could experiment. Katherine's chrono powers seem to be a lot weaker than yours in terms of stability and usage, which is fine, don't worry. My time bubbles only affect time inside the bubbles, and they're kinda small in comparison to your diameter of 4 meters. My "normal" bubbles are around 1.5 meters in diameter, and only hold up for a minute or so. The smaller my bubbles get the slower time ticks inside of them as well, and they're harder to hold up, so they pop faster. It's my pleasure! I can't wait to see what you have in store next!
Reply

Im sorry for the late reply Tenmus. You comment made me so happy, thank you so much for your kind words! Of course I would be glad that our OCs be friends! Im sure they can learn more things about their quirks and help each other to become better heroes! *_ *
Reply

No problem! Haha, aww

You're very welcome, Thaurea! That's great! I do hope for them to learn more about their quirks, and indeed become better heroes!

Reply