My pronouns are they/them, but my preference changes sometimes.
If you don't know, check my about, they're bolded!

I want Lord Dominator to kick my ass

about me (please read) : sta.sh/0v6utjavyea

I'm fine with you using dude/man/bro/etc. as gender-neutral terms for me, just PLEASE don't use feminine terms! It really triggers my gross-ass dysphoria and I could be in a shitty mood for a long time.

I really like cartoons bc I'm a Big Nerd™
Mabifica is a great ship and also Pacifica is a lesbian and Mabel is a trans girl and they're in love

I'm in love w/ too many characters and I need to Chill™ tbh
But I won't

Proud Slytherin and also I like Harry Potter bc I'm a giant fuckin nerdbomb

KRUSTY KRAB UNFAIR
MR KRABS IS IN THERE
STANDING AT THE CONCESSION
PLOTTING HIS OPPRESSION

If you back out of a hold, you won't be able to place another hold on the adopt

I don't do tags.

You can talk to me, I won't bite, I promise!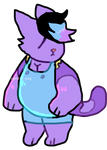 Catty cheeb by polaskia