Mature Content
This content is intended for mature audiences.
---
or, enter your birth date.*

Month
Day
Year*
Please enter a valid date format (mm-dd-yyyy)
Please confirm you have reviewed DeviantArt's Terms of Service below.
* We do not retain your date-of-birth information.
A Patreon commission by British Intelligence. You can see uncensored version on my other sites.

Support me on Patreon:
www.patreon.com/thatfreakgivz

Check out my Teepublic for T-shirt and merch:
www.teepublic.com/user/thatfre…
Info about Commissions: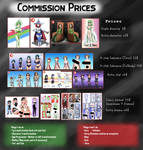 You can also check out my:

Tumblr
l

Twitter
l

Pixiv
l

Ko-Fi
l

Youtube
l

Picarto
l

Furaffinity
l

Newgrounds
l

Teepublic