1. How long have you been on DeviantArt?
About 6 years, apparently.
2. What does your username mean?
Tharcion was the name of a world I created for a Neverwinter Nights public server back in the day. I started using it as an alternative username for various things when my older, more meaningful name was unavailable.
3. Describe yourself in three words.
Over-inspired, quiet, curmudgeon.
4. Are you left or right handed?
Right handed, pretty heavily so.
5. What was your first deviation?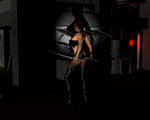 6. What is your favourite type of art to create?
Stories, really, but I use DAZ Studio to build cover art and huge amounts of concept art when I'm writing since my ability to visualise characters is weak. So, character art. Turning what I have in my head into a person I can look at is great fun. Then I get to write that person's character, which is even better.
7. If you could instantly master a different art style, what would it be?
Drawing, probably using a digital drawing/art package. I'm not bad at technical drawing, but producing properly drawn characters would make me really happy.
8. What was your first favourite?
I have no idea.
9. What type of art do you tend to favourite the most?
Pretty much everything fantasy and sci-fi. If it happens to have an attractive woman in it, so much the better.
10. Who is your all-time favourite deviant artist?
Nope, no way I can pick one.
11. If you could meet anyone on DeviantArt in person, who would it be?
Probably JollyJack, right now anyway.
12. How has a fellow deviant impacted your life?
I've had inspiration from all sorts of artwork.
13. What are your preferred tools to create art?
DAZ Studio and GIMP if I need postwork or text.
14. What is the most inspirational place for you to create art?
My 'office' or wherever my main computer is set up.
15. What is your favourite DeviantArt memory?
Getting any kind of positive feedback is great. My first llama was awesome.
#DeviantArtistQuestionnaire